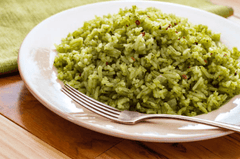 Eating a lot of rice? We thought we'd mix things up by giving you this banging recipe that will give you a delicious way to incorporate some colourful greens into your rice, adding flavour, nutrition, and texture!  
"Arroz Verde" basically translates to 'rice that is very green'. 
For an easy and delicious vegan supper, try adding spinach, peas, green beans, or quinoa, being sure to get those extra plant-based proteins.