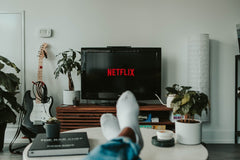 Binge-watching your favourite shows is a serious commitment that requires both dedication and the perfect snacks to accompany you on your journey. We understand the importance of having delectable treats to enhance your binge-watching experience. That's why we've curated a list of five scrumptious and addictive vegan snacks that will keep you coming back for more, just like your favourite series. Get ready to elevate your movie nights with these easy-to-make and mouthwatering vegan snacks!
Vegan Peanut Butter and Caramel Popcorn
No movie night is complete without popcorn, but let's take it up a notch with this chunky, sweet, and salty vegan peanut butter and caramel popcorn. This recipe ensures you have a large bowl of popcorn that will last beyond the opening credits.
Ingredients:
½ cup popping corn
4 tbsp coconut oil + 3 tbsp (for the caramel)
5 tbsp peanut butter (smooth or chunky)
4 tbsp maple syrup
1 ½ tsp cinnamon
2 tsp pink Himalayan salt
Instructions:
Preheat the oven to 180°C and line two baking trays with parchment paper.

In a large pan, melt 4 tbsp of coconut oil over medium-high heat. Add the popcorn kernels, cover, and shake gently to coat all the kernels with oil.

Cook for 2 to 3 minutes, occasionally shaking the pan, until the popping sounds slow down.

Transfer the popped popcorn into a large bowl.

In a large saucepan, combine peanut butter, 3 tbsp coconut oil, maple syrup, cinnamon, and salt. Cook on low heat until the peanut butter melts and combines with the other ingredients.

Pour the caramel sauce over the popcorn and use a spatula to mix and fold, ensuring an even coating.

Transfer the caramel-coated popcorn onto the baking trays and bake for 6 to 8 minutes or until the caramel begins to bubble.

Remove from the oven, let it cool for 10 minutes, and enjoy!
2.  Paprika Spiced Roasted Chickpeas
Add some spice to your binge-watching session with these paprika spiced roasted chickpeas. Not only are they deliciously crunchy, but they also a great healthy vegan protein source.
Ingredients:
450 grams of canned chickpeas (garbanzo beans)
1 tbsp extra virgin olive oil
2 tbsp nutritional yeast
¾ tsp paprika
½ tsp salt (or to taste)
½ tsp garlic powder
½ tsp onion powder
3 tsp dried dill and chives (or any other dried herbs of your choice)
Instructions:
Preheat the oven to 200°C and line a baking sheet with parchment paper.

Drain and rinse the chickpeas, then transfer them onto a clean towel. Pat and rub them until completely dry.

In a small bowl, mix together all the spices and herbs, and set aside.

Transfer the completely dried chickpeas into a large bowl. Add olive oil and mix well to coat the chickpeas.

Add the spice mixture to the chickpeas and mix until each chickpea is evenly coated.

Place the chickpeas on the lined baking sheet and roast for 30 to 35 minutes, rotating the baking tray halfway through to ensure even cooking.

Once the chickpeas are roasted, turn off the oven, open the door, and let the chickpeas rest in the semi-hot oven for 20 to 30 minutes to add extra crunch.

Remove from the oven and enjoy this protein-packed snack!
3.  Vegan Baked Jalapeno Cheese Poppers
If you're a fan of spicy, cheesy snacks, these baked jalapeno cheese poppers will take your binge-watching experience to the next level. Feel free to add a TikTok-inspired twist by sprinkling crushed Takis on top.
Ingredients:
12 Jalapenos
30g vegan cream cheese
1 ½ cups vegan cheddar, shredded
½ tsp garlic powder
½ tsp salt (or to taste)
1 tsp olive oil
1 bowl Takis (optional)
Instructions:
Preheat the oven to 180°C and grease a baking tray with olive oil.

Cut each jalapeno in half lengthwise and scoop out the insides.

In a large bowl, mix together the cream cheese, shredded cheddar, garlic powder, and salt.

Stuff the prepared cream cheese mixture into each jalapeno and line them on the greased baking sheet. Add more grated cheddar on top.

Bake for 20 to 25 minutes, or until the peppers are tender and the cheese is nicely browned.

For an extra spicy twist, crush up some Takis, sprinkle them on top, and enjoy!
4.  Crispy Courgette Fritters
Don't let hunger ruin your movie night. These lightly crispy and savoury courgette fritters are satisfying enough to curb your snack cravings and late-night hunger pangs. Pair them with your favourite Root Kitchen frozen vegan meal for an extra flavour kick.
5.  Vegan Chocolate Hazelnut Balls
End your binge-watching session on a sweet note with these dark and decadent chocolate hazelnut balls. With their irresistible combination of chocolate and hazelnuts, these vegan treats will leave you satisfied and ready for the season finale.
Ingredients:
1 cup raw hazelnuts + 1/3 cup for coating
2 tbsp raw cacao powder
5–6 pitted Medjool dates
2 ½ tbsp hemp seeds
Pinch of salt
2 tbsp water
Instructions:
Preheat the oven to 180°C.
Place the hazelnuts on a baking sheet and roast for 10 minutes until lightly toasted and fragrant.
Remove from the oven and transfer the hazelnuts onto a slightly damp dish towel. Rub and peel off the skins as neatly as possible.
Transfer the hazelnuts into a food processor and pulse until they are broken down into small pieces.
Add cacao powder, Medjool dates, hemp seeds, and salt to the food processor and pulse until well combined. Gradually add water until you get a soft, sticky mixture.
Transfer the mixture into a bowl and shape it into mini ping-pong-sized balls.
Take the crushed hazelnuts in a plate and roll the prepared balls in them to coat them evenly.
Freeze the hazelnut balls for 25 to 30 minutes, then enjoy!
So there you go!  Enhancing your binge-watching experience with delectable vegan snacks is a must. These five recipes, from the irresistible Vegan Peanut Butter and Caramel Popcorn to the indulgent Vegan Chocolate Hazelnut Balls, are sure to elevate your movie nights to new heights. So grab a bowl, get cozy, and indulge in these delicious treats while enjoying your favourite shows. Don't forget to share your best binge-watching picks with us on Instagram @rootkitchenuk!