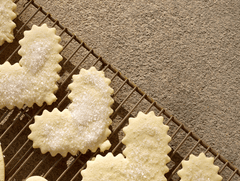 Love is in the air today in the Root Kitchen so we thought we'd write a special Valentines Day blog post to look at how you can indulge your sweet tooth and stick to your healthy plant based diet.
Valentine's Day is a special time of the year that is associated with indulging in sweet treats and decadent desserts. Whether you are a fan of the day or think it's overrated, the allure of chocolate-laden delights and heart-shaped baked goods can be hard to resist. However, with a few simple changes, you can still enjoy your favorite Valentine's Day sweets without sacrificing your health.
According to Root Kitchen's head nutritionist Emma Hogarth, it's possible to make healthier choices when it comes to your sweet treats. She suggests making a few simple swaps to traditionally unhealthy desserts to add nutrition and make them healthier. In this article, we will look at some of the most popular Valentine's Day desserts and provide you with healthier alternatives.
Brownies
To make black bean brownies, simply puree a can of drained and rinsed black beans with the rest of the ingredients. This creates a smooth and creamy base that is a great alternative to butter and flour. You can also experiment with different flavours and textures by adding in nuts, seeds, or other wholesome ingredients.
Emma also recommends using unsweetened cacao powder instead of cocoa powder in your brownies. Cacao powder is derived from the raw cacao bean and is minimally processed, which means it retains more of its beneficial nutrients. Cacao is a rich source of antioxidants, which can help to protect your cells from damage caused by free radicals. It is also high in magnesium, iron, and other minerals that are important for overall health.
When choosing chocolate chips for your brownies, go for dark chocolate that is low in sugar. Dark chocolate contains more cacao solids and less added sugar than milk chocolate, which makes it a healthier choice. It also has a rich and intense flavor that pairs well with the other ingredients in brownies.
By making these simple swaps, you can still enjoy the rich, fudgy taste of brownies while adding nutrition to your dessert. Not only will you be satisfying your sweet tooth, but you will also be supporting your body with wholesome ingredients. So go ahead and indulge in a healthier version of this classic dessert!
Heart Shaped Cookies
Heart shaped cookies are a popular treat during Valentine's Day, but they are often made with refined white flour that lacks essential nutrients. Emma suggests a healthier alternative to using traditional all-purpose flour in sugar cookies, by swapping it for a grain-free variety like almond or coconut flour. This not only makes the cookies gluten-free, but it also increases the fiber and nutrient content compared to refined white flour.
Additionally, if you want to take things a step further, you can try making your own frosting instead of using shop-bought. A coconut-based, vegan frosting is a healthier option that provides added nutrition. Homemade frosting also allows you to control the amount of sugar and other ingredients that go into it.
Why not try these simple swaps and you can still enjoy the taste of heart shaped cookies while making them a healthier option. Almond and coconut flours contain more protein and healthy fats than all-purpose flour, making them a better choice for your overall health. They also have a lower glycemic index, which means they won't spike your blood sugar as much as refined white flour. Coconut-based, vegan frosting is a healthier alternative to traditional frosting, which is often made with unhealthy ingredients like butter and powdered sugar.
Whether you're gluten-free, dairy-free, or simply looking for healthier options, there are many delicious and nutritious alternatives to traditional Valentine's Day desserts.
Red Velvet Cake 
Red velvet cake is a rich and indulgent dessert that has become a popular choice for special occasions like Valentine's Day. However, traditional red velvet cake recipes are typically high in sugar, oil, and butter, which can make them a less than healthy option for those looking to maintain a balanced diet.

To make this beloved dessert a healthier choice, Emma recommends using pureed red beets in place of artificial coloring. Beets are a nutritious vegetable that are packed with vitamins, minerals, and antioxidants. When cooked and pureed, beets add a natural red color to the cake batter, which means you can use less sugar, oil, and butter without sacrificing the cake's classic color.

By using beets in place of artificial coloring, you're also adding a good amount of fiber to the cake, which can help promote digestive health and keep you feeling full and satisfied for longer. Additionally, beets contain antioxidants, which are compounds that can help protect your cells from damage caused by free radicals.

To make your red velvet cake even healthier, try topping it with a delicious coconut cashew cream cheese frosting. This type of frosting is made with nutritious ingredients like coconut milk, cashews, and cream cheese. These ingredients contain healthy fats, protein, and other essential nutrients that can help support overall health.
Chocolate Mousse
Traditional chocolate mousse is a dessert made with eggs and heavy cream that can be high in saturated fat and calories. However, here we are going to show you how you can create a healthier version.  One option is to swap out the heavy cream and eggs with ripe, creamy avocado. This not only reduces the amount of saturated fat and calories in the recipe, but also adds in healthy monounsaturated fats, fiber, vitamin C, and folate.

To make avocado chocolate mousse, start by blending ripe avocado with melted dark chocolate, cocoa powder, and a natural sweetener like honey or maple syrup. You can also add in some almond milk or coconut cream for added creaminess, if needed. Once blended, the mixture is ready to be chilled in the fridge for a few hours until it sets. The result is a rich and creamy chocolate mousse with a smooth and silky texture that is healthier than the traditional version.

Avocado chocolate mousse is not only a healthier option, but it is also a great dessert choice for those with dietary restrictions. It is naturally dairy-free, making it a good option for those who are lactose intolerant or have a dairy allergy. Additionally, it is gluten-free and can be made vegan by using a plant-based sweetener like maple syrup or agave nectar. Overall, avocado chocolate mousse is a delicious and nutritious way to enjoy the classic dessert.
Root Kitchen delivers healthy, chef-developed frozen vegan meals to make eating well easy and delicious. Check out our menu.