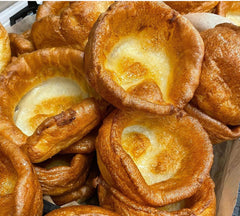 Being a big fan of family sit down Sunday Dinners (and a northern boy) I've always been a lover of that traditional Sunday dinner staple, the Yorkshire Pudding.
Whilst most people miss cheese or indeed 'meat' when first adopting a vegan diet, the first thing I thought was; "What about Yorkshire puddings?".  Whilst there were many alternatives to other products available such as a succession of meat successors and an ever increasing number of tasty vegan cheeses in supermarket chillers, one thing I couldn't find anywhere was a vegan Yorkshire Pudding and, to be honest, my wife likes to cook everything from scratch on her roasts, so I asked our development chefs to come up with their ultimate recipe for vegan Yorkshire Puddings.
They challenge was set and both Lyndon and Nathan went away with the task of creating the perfect vegan Yorkshire pudding recipe and after a number of blind tastings with the team here (tough job but someone's got to do it), there was one winner.
So, without any further ado, here is our recipe for the perfect Vegan Yorkshire pudding:
Ingredients:
1 cup flour
1/2 cup plant-based milk (such as soy or almond milk)
1/2 cup water
2 tablespoons vegetable oil
1 teaspoon baking powder
1/4 teaspoon salt
Instructions:
Preheat the oven to 220 °C.
In a mixing bowl, combine the flour, baking powder, and salt.
Slowly add in the plant-based milk and water, whisking until smooth.
Stir in the vegetable oil.
Pour the batter into a well-greased muffin tin, filling each cup about 2/3 of the way full.
Bake for 20-25 minutes, or until the puddings are golden brown and risen.
Serve immediately.
I prefer mine slightly more on the well done side so you may want to experiment with your cooking times but this was the recipe we went for and it always delivers the perfect vegan Yorkshire pudding, so give it a try this weekend and send your results to us on instagram @rootkitchen_uk so we can check them out!
For those of you who don't have the time or patience to cook from scratch, especially during rushed midweek dinner times, and prefer your vegan meals delivered, we've got your back.  Order this month using the code VEGANUARY23 to receive 30% OFF your box.