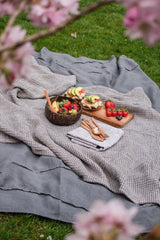 We often see sales of our frozen vegan meals slow down in the summer as you are all basking in the warm embrace of sunshine and the allure of picnics grows stronger. As you spread your picnic blanket under the clear sky, take a moment to appreciate the simplicity of life. With the gentle breeze as your companion, we present to you an exquisite selection of four delectable vegan snacks that seamlessly blend into your summer escapades. These culinary delights promise both health and flavour, all while being kind to your wallet. Bid farewell to laborious hours in the kitchen; these recipes guarantee that you'll make the most of this splendid season.
1. Breezy Herb-Infused Vegan Potato Salad
An outdoor gathering isn't complete without a bowl of delightful potato salad. Imagine tender baby or charlotte potatoes, adorned with the vibrant flavours of parsley, chives, and thyme, all embraced by a zesty lemon-Dijon dressing. This is the embodiment of summer in every bite.
Ingredients:
2.2 lbs (1 kg) baby or charlotte potatoes
1/4 cup (15g) finely chopped parsley
2 tbsp finely chopped chives
1 tbsp dried thyme
2 tbsp finely chopped dill
2 cloves of minced garlic
4 tbsp olive oil
2 tbsp Dijon mustard
Juice of 1/2 lemon
Salt and pepper, to taste
Instructions:
Begin by thoroughly washing and scrubbing the potatoes, then cut them into quarters or 1-inch cubes for charlotte potatoes. In a large saucepan, bring water to a boil and add the potatoes. Simmer for 6 to 8 minutes until they are fork-tender. Drain the water and let the potatoes cool for 10 minutes.
While the potatoes cool, whisk together minced garlic, olive oil, Dijon mustard, lemon juice, and ground pepper in a small bowl to create the dressing.
Transfer the cooled potatoes to a serving bowl. Add the chopped herbs and pour the dressing over them. Gently mix until the potatoes are thoroughly coated. Taste and adjust seasoning if necessary.
2. Creamy Vegan Chickpea Hummus Delight
A staple dip, yet versatile enough to stand as its own dish, this classic vegan hummus is an embodiment of creamy perfection. Boiled chickpeas, enriched with tahini, garlic, olive oil, and lemon juice, culminate in a velvety texture. Whether paired with your favourite crudités or enjoyed solo, this hummus is an essential addition to your picnic hamper.
Ingredients:
1.5 lbs (700g) dried chickpeas, soaked overnight
1/2 cup plus 1 tbsp olive oil
2 cloves of chopped garlic
1 tbsp tahini
Juice of 1.5 lemons
Salt, to taste
1/2 tsp smoked paprika (for topping)
Instructions:
Reserve 1/3 cup of chickpea-soaked water and drain the rest. In a pot, boil the soaked chickpeas until tender. Alternatively, you can use pre-boiled or canned chickpeas.
Transfer the cooked chickpeas to a food processor. Add 1/2 cup of olive oil, chopped garlic, tahini, lemon juice, and salt. Blend until you achieve a thick, coarse paste. Gradually add the reserved chickpea-soaked water while blending to reach a smooth consistency. Adjust the seasoning as needed.
Transfer the hummus to a serving bowl. Drizzle with olive oil and sprinkle smoked paprika on top. Garnish with herbs and nuts of your choice if desired.  We also love hummus as a starter for guests when we are serving a sharing size portion of our plant based lasagne.
3. The Unforgettable Vegan Whole Wheat Burrito
Say goodbye to skepticism about meatless burritos with this incredible vegan version. Packed with goodness, these burritos feature Basmati lemon rice, chipotle black beans, and vegan sour cream. Prepare the components ahead of time, and you'll have a hearty meal ready to enjoy within minutes of your picnic rendezvous.
Ingredients:
For Chipotle Black Beans:
1 tbsp vegetable oil
1 minced garlic clove
1.5 tbsp chipotle paste
14 oz (400g) finely chopped tomatoes
1/3 cup water
14 oz (400g) boiled black beans
1 bunch (150g) finely chopped coriander
Salt, to taste
For Basmati Lemon Rice:
8.8 oz (250g) cooked and drained Basmati rice
Juice of 1 lemon
1/2 finely chopped red onion
1.7 oz (50g) finely chopped hazelnuts (optional)
Salt, to taste
For Burritos:
4 whole-wheat tortillas
1.7 oz (50g) shredded lettuce leaves
4 tbsp vegan sour cream
Instructions:
For the chipotle black beans, heat oil in a pan over medium-high heat. Sauté garlic, then add chipotle paste and chopped tomatoes. Simmer until thick, then add water, salt, and cooked black beans. Mix in fresh coriander.
For the Basmati lemon rice, combine cooked rice, lemon juice, red onion, and hazelnuts in a mixing bowl. Mix well and set aside.
Assemble the burritos by placing a tortilla on a flat surface. Spread vegan sour cream, add shredded lettuce, rice, and chipotle black beans. Roll tightly and serve immediately or wrap in foil for the picnic.
4. Divine Vegan Chocolate Brownies to Satisfy
To conclude your picnic on the sweetest note or even just as a delicious desert after feasting on one of our vegetarian ready meals, what could be better than indulging in heavenly vegan chocolate brownies? These delectable treats will have your companions reaching for seconds, thirds, and even fourths.
Ingredients:
1 cup (225g) vegan butter, melted
2 cups (400g) granulated sugar
1 tsp vanilla extract
1 cup (120g) all-purpose flour
1/2 cup (60g) cocoa powder
1/4 tsp salt
1/2 cup (120ml) unsweetened applesauce
1 cup (175g) dairy-free chocolate chips
Instructions:
Preheat your oven to 350°F (175°C) and line a baking pan with parchment paper.
In a mixing bowl, whisk together the melted vegan butter, granulated sugar, and vanilla extract until well combined.
Sift in the all-purpose flour, cocoa powder, and salt. Mix until the dry ingredients are fully incorporated into the wet mixture.
Stir in the unsweetened applesauce to create a smooth batter.
Fold in the dairy-free chocolate chips, ensuring they are evenly distributed throughout the batter.
Pour the batter into the prepared baking pan and spread it evenly.
Bake in the preheated oven for about 25-30 minutes or until a toothpick inserted into the center comes out with a few moist crumbs.
Allow the brownies to cool in the pan for a while before transferring them to a wire rack to cool completely.
Once cooled, cut the brownies into squares and serve.
Conclusion: Enjoying the Bounty of Summer
As the sun-drenched days of summer unfold, there's no better way to make cherished memories than by sharing a picnic with loved ones. With these four delightful vegan snacks, your picnics will be elevated to a new level of taste and enjoyment. From the herb-infused potato salad that captures the essence of the season to the creamy chickpea hummus that offers a burst of flavour, each dish brings its own unique charm. The unforgettable vegan burritos are a testament to the power of plant-based ingredients, while the divine chocolate brownies are a sweet reminder of life's simple pleasures.
So, whether you're lounging in a quiet park or embracing the great outdoors, these picnic-friendly vegan snacks are your culinary companions for creating memorable moments. By taking the time to savour the vibrant tastes of summer and the company of those around you, you're crafting an experience that embodies the true essence of the season. Happy picnicking!