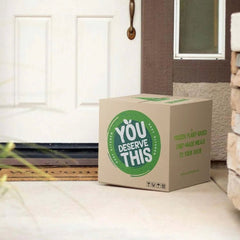 Eating a plant-based diet has never been more popular, and with the rise of vegan ready meal subscription boxes, it has become easier than ever to enjoy delicious, convenient vegan food. In this article, we will compare some of the top vegan ready meal subscription boxes available in the UK, to help you find the perfect one for your needs.
First, let's take a look at "allplants". It is one of the most popular vegan ready meal subscription boxes in the UK, offering a wide variety of plant-based meals. Each box includes a selection of frozen meals, snacks, and desserts, all of which are 100% vegan. They offer a wide range of options including breakfast, lunch, dinner, and desserts.  You may be also familiar with some of their meals from Planet Organic where they have their own branded freezers however they started as a Direct to Consumer brand selling meals from their website originally.
I was wondering whether or not to include Root Kitchen in here as we see ourselves more as a retail brand however we do have the option on our website for customers to buy boxes of our meals as a one off or on a subscription. Our boxes of vegan ready meals are insulated by recycled denim liners and are delivered by carbon neutral courier. The Root Kitchen subscription box is perfect for flexitarians who want chef-made vegan meals that replicate the taste profile of traditional favourites at an affordable price.
"Jam N Vegan" is another subscription box that is worth considering. They are a relatively recent entrant to the market and their range features a variety of vegan meals from different corners of the world, all of which are made with natural ingredients. They offer a number of options, from Indian to Caribbean meals, and have recently been rebranded, having secured funding from Vegan Investment Fund Veg Capital, going from a natural look on their packaging bright sleeves for their meals.
Another option is the "Planty" Subscription box, which focuses on providing meals made from plant-based ingredients and has recently started to add vegan deserts to their menu.  Each box includes information on how you can return the packaging.  The layout of their website is similar to Jam N Vegan so it should be easy to navigate for customers who may have used both services.  Planty is an option for customers who may want to try mock meats in some of their vegan meals.
The final vegan subscription box that we'll look at today is called Vibrant Vegan, they are another of the more established companies, manufacturing their own meals and also offer customers the option of single person meals or double portion sizes, making it a good choice if you are in a couple who share the same food tastes as you can save money buying the larger portions if you are both happy to eat the same meals.
The costs associated with customer acquisition through online marketing are really high for online businesses and when you factor in other costs such as courier services and ingredients that seem to always be increasing, it is easy to understand that running an online vegan subscription box business is really capital intensive. There have also been other great vegan meal subscription boxes that are no longer operating such as The Brook, which manufactured premium tier vegan meals and others including Pep Kitchen and Mitch's Kitchen which operated on a smaller scale.
Because of these costs and the fact that they are often made in small batches, buying vegan meals online can be more expensive than buying them in traditional channels such as supermarkets.  With Root Kitchen it has always been our mission to make our meals affordable for as many people as possible so we are actively looking to move in to larger retail distribution, however, selling our meals direct to consumer has helped to build our brand and a community that has given us a close connection to our customers so we can hear feedback first hand, which meals work and which meals are not so popular.
When choosing a vegan ready meal subscription box, it's important to consider your personal needs and preferences. If you're looking for a wide variety of ready-made meals for different meal occasions throughout the day, "allplants" and "Planty" are both good options. If you're more interested experiencing food from around the world, "Jam N Vegan" is a great choice. Similarly, if you a part of a couple and want to try a vegan diet together then "Vibrant Vegan" is a good shout.  Whilst, if you're looking for a chef-made vegan equivalents of traditional favourites at an affordable price then Root Kitchen would be ideal for you.  In fact, most of the online customers that we speak to often order from a few different online vegan meal brands over the course of the month in order to keep things interesting.
In conclusion, there are a variety of vegan ready meal subscription boxes available in the UK, each with its own unique offerings. Whether you're looking for a wide variety of ready-made meals, ingredients and recipes, or eco-friendly products, there is a subscription box out there that will meet your needs. With a little bit of research, you can find the perfect vegan ready meal subscription box to help you enjoy delicious, convenient, plant-based food.