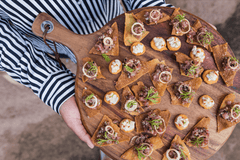 With Christmas party season now fully underway we thought what better time to share some of our favourite vegan party food hacks with you so you can wow your guests with some delicious vegan nibbles over the festive period.
Here are our 'go to' staple vegan finger food ideas:
Veggie skewers: Are summer BBQ classic that also lends itself well to vegan party food.  Thread pieces of vegetables like cherry tomatoes, red or green peppers, mushrooms, and onions onto skewers and grill or roast until tender.

Guacamole and dipping sticks: Some times the simplest ideas are the best.  We always pre-make a batch of guacamole and serve it with vegan crisps or sliced vegetables such as carrots, peppers, or cucumbers which can be used as dipping sticks.

Vegan spring rolls: Rshma's Mum, Laila, makes the most amazing Vegan spring rolls and they are really simple, all you need to do is fill rice paper wrappers with a mixture of cooked rice, vegetables like carrots, peppers, and cabbage, and herbs like mint and cilantro. Roll up the wrappers and serve with a dipping sauce like peanut or sweet chilli......  Et voila!

Vegan sliders: If you are feeling a little more adventurous or have more time to prep why don't you make some mini vegan burgers?  Make mini burgers using plant-based patties and serve them on small buns with all the fixings like lettuce, tomato, and onion.

Vegan buffalo cauliflower bites: We posted a about the full sized version of the Tandoori Spiced Cauliflower in our Vegan BBQ Ideas and this follows a pretty simple process.  All you need to do it cut a head of cauliflower into bite-sized pieces and toss them in a mixture of hot sauce and melted vegan butter. Roast in the oven until tender and serve with a side of vegan ranch dressing.

Vegan sushi rolls: Similar to the Vegan spring rolls, first start off by filling sushi rice and seaweed rolls with a mixture of vegetables like cucumber, avocado, and carrot. Serve with soy sauce or tamari for dipping.

Vegan buffalo wings: As you know we are big fans of Tofu here at Root Kitchen.  It's so versatile, takes on seasoning really well and can give a mouth feel that some flexitarians may miss when reducing their meat intake.  These vegan buffalo 'wings' are always a hit!  Simply cut a block of tofu into bite-sized pieces, toss it in a mixture of hot sauce and melted vegan butter, and bake in the oven until crispy. Serve with a side of vegan ranch dressing.
I hope these ideas give you some inspiration for your vegan finger food spread and please feel free to reach out on our socials with your favourite vegan party foods as we're always up for trying out new recipes!