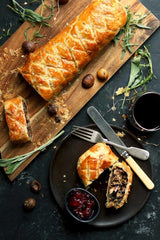 This is a bit of a last minute blog post but after sitting down with our Development Chef, Lyndon, last week to get his advice on how to Have Yourself a Merry Vegan Christmas, he casually dropped in that he had a banging recipe for a Vegan Mushroom Wellington, and all weekend I've been dreaming about this dish so we managed to get him to make us some and share the recipe with you.  So without an further ado here is the recipe for Lyndon's delicious vegan mushroom wellington:
Ingredients:
1 sheet vegan puff pastry, thawed
1 tablespoon olive oil
1 small onion, finely diced
2 cloves garlic, minced
8 ounces cremini mushrooms, finely diced
1 teaspoon fresh thyme leaves
1/2 teaspoon salt
1/4 teaspoon black pepper
2 tablespoons vegan cream cheese
2 tablespoons finely chopped fresh parsley
1 tablespoon Dijon mustard
1 tablespoon vegan butter, melted
Instructions:
Preheat your oven to 400°F (200°C).
Heat the olive oil in a large pan over medium heat. Add the onion and garlic and cook until the onion is translucent, about 5 minutes.
Add the mushrooms, thyme, salt, and pepper to the pan and cook until the mushrooms are soft and have released their liquid, about 5-7 minutes.
Remove the pan from the heat and stir in the vegan cream cheese, parsley, and mustard. Set aside to cool slightly.
Roll out the puff pastry on a lightly floured surface into a large rectangle, about 10x12 inches.
Spread the mushroom mixture evenly over the puff pastry, leaving a 1-inch border around the edges.
Brush the border with the melted vegan butter.
Carefully roll the pastry from the long side into a tight log.
Place the log seam-side down on a baking sheet lined with parchment paper.
Brush the top of the wellington with the remaining melted vegan butter.
Bake for 20-25 minutes, or until the pastry is golden brown and puffed up.
Allow the wellington to cool for a few minutes before slicing and serving. Enjoy!
I hope you enjoy this recipe! Let me know if you have any questions or need any substitutions.  Similarly, if you have a go at making this Vegan Mushroom Wellington share your results with us and tag us in on instagram @rootkitchen_uk as we'd love to see all of your efforts!