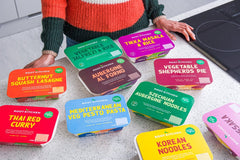 As you may know Root Kitchen was established in 2021 by me and my sister in law Rishma. Rish was in search of a way to eat healthy vegan meals during rushed midweek evening mealtimes.
She discovered that what she was looking for did not exist on the market, so she decided to create some meals herself. The two key pillars that guide Root Kitchen's cooking are crave-ability and convenience. She wanted to create meals that are both tasty and affordable.
Rishma is a New Product Development Director for her family's ready meal manufacturing business, so in her spare time, she began experimenting with different plant based recipes and ingredients.
After receiving positive feedback from friends and family, she came to me with her meals and we decided to turn her experiment into a business and officially launch Root Kitchen.
We decided we wanted our vegan meals to be frozen to ensure freshness and convenience for our customers. Rishma was also really particular about ensuring the chefs stick a set of guidelines in their cooking such as using wholesome ingredients, cooking by hand and avoiding artificial ingredients.
We also have a mission to combat food waste and hunger, partnering with the charity One Feeds Two to donate the cost of a school meal in the developing world for every Root Kitchen meal sold by our website.  We've recently passed our second birthday and have been really appreciative of the the support of our early direct to consumer customers who have got us to the stage where we have been able to launch in to the wholesale channel, supplying over 150 independent health food shops here in the UK.
Targeting Retail Listings
Next up is part two, which is to continuing towards our mission of making nutritious vegan food accessible for everyone, not just those people who can afford to buy from the online vegan meal subscription companies.  To do this we are looking to grow our retail presence and are actively reaching out to some of the UK's leading retailers.  Here I'll talk you through a checklist of the process we are going through as we chase down that elusive first supermarket listing:
Understand our target market:  We spent a while researching our target market and really getting to understand their needs, preferences and buying habits. This is where starting as a direct to consumer brand was so helpful as it has helped us to get feedback direct from our community.

Build a strong brand: We wanted to continue to develop a strong brand identity and messaging that will set our products apart from competitors. This includes creating a compelling logo, packaging and website that effectively communicates our brand's unique selling points and we are currently in the process of updating our website and packaging to support our move in to retail.

Establish product quality:  This was the first priority for us way back when we first started Root Kitchen. We wanted to make sure we had a range of high quality products and all the necessary food safety standard accreditations required to supply in to large retail chains. 

Develop a strong sales pitch: We've worked with our design team to create a strong and compelling sales pitch that clearly communicates the benefits of our products and how they meet the needs of the retailers and our target market.

Build relationships: Build relationships with retailers by networking at industry events, reaching out to decision-makers, and offering to provide samples or in-store demonstrations of your product.  We've been along to numerous meet the buyer events and have enjoyed getting to know buyers and showing them Root Kitchen meals.

Be flexible: We have always been willing to work with retailers on customising our product or packaging to meet their specific needs. This could include offering different sizes or formulations of your product.

Be Prepared: Make he buyers job easy, show them that you have all necessary documents and certifications ready, and be prepared to answer any questions that the retailers may have.

Be persistent: Building relationships and getting retail listings takes time, we are two years in now, so be persistent and keep following up with retailers even if they initially decline your product.

Offer Promotions: Consider offering promotions or discounts to retailers to encourage them to stock your product.  Many will ask you for a promotional schedule as customers are especially price sensitive at the moment given the recent cost of living crisis so these types of promotions are really important to help drive your rate of sale.

Monitor your progress: Monitor the progress of your product in the retailers and make changes if necessary to improve sales.  Like anything, it is always worth being close to the numbers, you don't want the first you hear about a slow moving product being a delist notification.
Let us know which supermarket you would like to see Root Kitchen meals in by connecting us on instagram @rootkitchen_uk