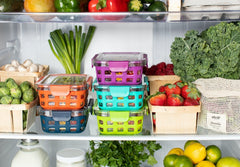 Planning your weekly perishable food shopping not only helps to reduce food waste but also ensures that you always have the ingredients for quick and healthy meal options.
You don't have to spend hours planning meals for the week as it's difficult to predict cravings or unexpected plans. Instead, be practical and keep 6-7 types of veggies at a time to prevent spoilage. For inspiration, here's a list of reliable fridge essentials.
Cauliflower
Cauliflower is a durable vegetable with endless tasty possibilities, from roasting and mashing to grilling and stewing in a curry or transforming into rice.
Sweet Potato
Similar to cauliflower, sweet potatoes have a long shelf life and can be cooked in various delectable ways. Bake a few and refrigerate for speedy and effortless lunch or dinner options.
Carrots
Carrots are versatile in raw and cooked dishes; spiralize for colourful noodles, shred for tangy slaw, or blend into smoothies and juice.
Celery
Celery is a versatile vegetable that can be enjoyed raw or cooked, as a snack with hummus, chopped into sauces and soups, or juiced for a skin-boosting and energising drink.
Spring Onions
Spring onions are simple to prepare and won't make you cry. They enhance the texture of salsas and serve as a crispy topping for noodles, curries, and salads.
Citrus Fruits
Lemon and lime juice, along with their zest, can add a burst of flavor to meals. They can be used as dressings, marinades, in guacamole, salsa, curry pastes, and sauces.
Ginger
This root vegetable is a powerhouse for immunity and has numerous uses, such as mincing for refreshing dressings, adding to curry pastes, incorporating into stir-fries, or even juicing for a healthy morning shot.

Fennel
Another nutrient-rich ingredient that adds great texture and flavour to slaws, salads, soups, and juices.

Condiments
A good condiment can enhance your meal whether added to sauces and dressings or on its own. Vegan mayo and mustard are among our favourites.
Pickles, Capers, Dill Pickles, Beetroot, Jalepenos
These tangy fridge items such as pickles, capers, dill pickles, beetroot, and jalapenos can be added to many cuisines for extra flavor. Blend beetroot into hummus, top vegan chili with jalapenos, and add pickles to falafel wraps and capers to pasta. Plus, here are five extra vegetables that are not as long-lasting but can be used in multiple ways.
Courgettes
Courgettes are incredibly versatile - turn them into spaghetti, load them with pulses, chop them into curries or sauces, or add them to pancakes with greens.
Mushrooms
Vegetarians and vegans love mushrooms for their rich flavour and satisfying, meat-like texture. Choose the variety that suits your taste.
Avocados
Incorporate avocados into your smoothies, toast them on sourdough bread, use them to add creamy texture to Mexican food, or even turn them into nutritious desserts. Avocados are a staple in any fridge.
Tomatoes
The dependable and versatile tomato works well in both hot and cold dishes. Chop them finely with herbs and garlic for a quick bruschetta, add a burst of flavour to salads, pasta, and grains, transform them into salsa, and bring out their sweetness by roasting with your favourite vegetables.
Your Favourite Fresh Herbs
Fresh herbs enhance the flavour of homemade dishes, but only keep for a short time. Consider growing your own or limiting your selection to one or two. Our top picks are coriander and mint, great in curries, salsas, and wholegrain dishes.
If you have enjoyed this and would like more vegan inspo this time for your pantry click here.