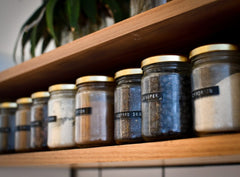 Busy schedules can leave you hangry and short on meal options, but fear not! Stocking up on plant-based pantry staples like veggie stock, tamari, chickpeas, and quinoa can save the day. Check out our must-have list to keep hunger at bay and skip the delivery apps.
Pulses
Quick-cooking and high in protein and fiber, lentils, chickpeas, black beans, and other legumes are incredibly versatile. Try adding them to pasta dishes, soups, or even serving them on toast for a satisfying meal.
Approx cost: 75p a can
Coconut milk 
A splash of coconut milk or cream can turn a lackluster dish into a flavorful, creamy delight.
Approx cost: £1.00 a can
Patak's Curry Paste
This paste is our go-to for whipping up delicious soups and curries in a snap, using whatever veggies you need to use up.
Approx cost: £1.75 a jar
Garlic Puree
Garlic is a hassle-free flavour booster that's always within reach. Let's be honest, who doesn't love it?
Approx cost: £1.05 a tube
Apple Cider Vinager 
This versatile liquid can add depth and tang to your dishes while supporting digestive health and promoting a healthy gut.
Approx cost: £2.30 for organic or £1.90 for non-organic
Marmite
Whether you love it or hate it, Marmite is a versatile pantry item that adds an essential umami flavour to your dishes.
Approx cost: £1.50 a jar
Tamari
This ingredient is a fantastic staple for adding depth to sauces and stews, and for whipping up quick stir-fries.
Approx cost: £1.75-£2.50 depending on brand
Nut Butters

Do we need to explain this one? It's a favourite for so many reasons! Great for protein and good-fat rich snacking and adds nutty creaminess to sauces and dressings. Mmmmm.

Approx cost: £3.00 a jar (make sure it's unsustainable palm oil free)
Stock cubes (Kallo are our favs!)
Stock cubes are a great way to enhance the flavour of various dishes. For instance, try crumbling a cube into your rice next time you cook it - you won't regret it!
Approx cost: £1.50 a pack
Plant milk
Oat, coconut, almond, and cashew milk, among others, are great options for adding creaminess to meals, sauces, or dressings, without dairy.
Approx cost: £1.50-£2.00for 1L depending on brand and type (Oatly is a favourite)
Oils
Good quality oils can take your cooking to the next level. Use them for roasting vegetables, making tangy salad dressings, and more.
Approx cost: £1.75 depending on quality, type and brand
Nutritional Yeast
Nutritional yeast is an affordable and simple way to add a rich, nutty flavor to vegan meals. Try it as a B12-rich cheese substitute on pasta.
Approx cost: £2.95 for 125g pot
Dried pasta, rice, couscous
Dried carbs are versatile and perfect for quick and tasty meals. We could name countless ways to get creative with them!
Approx cost: 75p-£2.00 for 500g depending on type
Bisto beef granules
This quick gravy is perfect for gravy lovers and surprisingly vegan-friendly, with no lumps in sight. Oh and bet you didn't guess it was vegan did you?!
Approx cost: £1.50 for 170g pot
A good herb & spice collection
Finally, don't forget to include an assortment of herbs and spices in your pantry to add a burst of flavour to your meals. Consider stocking up on smoked paprika, cumin, onion powder, garlic powder, dill, Chinese five-spice, and more.
Approx cost: 90p-£1.75 depending on packaging and spice.
Click here for a list of 15 vegan fridge essentials.