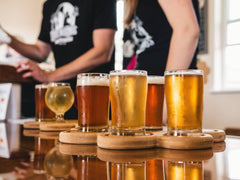 Raise your glass and celebrate the vibrant world of vegan beer! In this article, we'll explore the wonderful realm of vegan-friendly beers, perfect for those following a plant-based lifestyle. While you might assume that all beers are vegan, that's not always the case. Many breweries use animal-based finings during the brewing process, making the beer unsuitable for vegans. However, fear not! The vegan beer industry is flourishing, and we're here to introduce you to eight incredible vegan beers that will tantalise your taste buds. From light and refreshing lagers to bold and bitter IPAs, there's a vegan beer out there to suit every palate. Let's dive into the lip smackingly tasty world of plant-based brews!
Einstok Arctic Icelandic Pale Ale
Embark on a flavour-filled journey with Einstok Arctic Icelandic Pale Ale. This exquisite pale ale blends American and Bavarian craft, resulting in a robust bitterness balanced by smooth malty undertones. Triple-hopped with Cascade, Northern Brewer, and Hallertau hops, this beer boasts a clear amber pour with a frothy top and a delightful citrusy, floral aroma. Each sip of this refreshingly Icelandic pale ale leaves a lingering toasty bitterness, making it a true delight for beer enthusiasts.
ABV: 5.6% Price: £2.36 for a 33cl bottle
Budweiser 
A classic and globally renowned beer, Budweiser is now proudly vegan-friendly. With its subtle sweet rice flavour and a touch of bitter hops, Budweiser offers a classic pale ale taste that appeals to beer lovers around the world. As soon as it's poured, a sweet honey-like aroma fills the air, setting the stage for a refreshing and enjoyable drinking experience.
ABV: 5% Price: £1.80 for a 66cl bottle
Propaganda 750 IPA
For fans of India Pale Ales (IPAs), Propaganda 750 IPA is a must-try vegan beer. This beer boasts a classic IPA taste with a strong tropical fruit flavour derived from citrus hops. Unfiltered and featuring a blend of Centennial, Amarillo, and Simcoe hops, this IPA offers a lingering bitterness that captivates the palate. Whether you're enjoying it on its own or pairing it with our spicy Korean Tofu Noodles, Propaganda 750 IPA promises an exciting and tasty drinking experience.
ABV: 6.7% Price: £2.89 for a 33.5cl bottle
Guinness Draught
Slainte! Guinness Draught, the iconic Irish stout, has embraced vegan-friendly brewing. This dark beer delights the senses with its long-lasting creamy, frothy top when poured correctly. The flavour profile offers a delightful blend of malty sweetness and hoppy bitterness, with subtle undertones of coffee and chocolate. Guinness Draught's distinct taste has made it one of the most beloved stouts worldwide, and now, vegans can savour its rich flavours with every sip.
ABV: 4.2% Price: £2 for a 75cl can
Green's Glorious Pilsner 
Indulge in the crisp and refreshing taste of Green's Glorious Pilsner, a Belgian-style pilsner that's both vegan and gluten-free. This classic pilsner carries a faint bitter flavour complemented by undertones of vanilla and a refreshing citrusy aroma. 
ABV: 4.8% Price: £2.62 for a 33cl bottle
Kernel London Sour: Raspberry 
Prepare your taste buds for a fruity explosion with Kernel London Sour: Raspberry. This vibrant and tangy beer pours a deep red colour and entices with its tart, fruity aroma. The initial sip reveals a dry white wine-like character with a delicate hint of raspberry flavour dancing in the background. As you continue to savour the beer, it mellows into a tangy tonic water-like taste. If you're seeking a mild vegan brew to cool down or enjoy alongside our Butternut Squash Lasagne, this sour ale is an excellent choice.
ABV: 5.5% Price: £2.90 for a 33cl bottle
La Trappe Blond 
Discover the refreshing allure of La Trappe Blond, a smooth golden blonde beer that is sure to please. With its fresh fruity aroma, this beer captures the essence of a warm summer day. The taste profile strikes a delightful balance between toasty bitterness and a light malty sweetness, leaving a pleasantly lingering bitter aftertaste. La Trappe Blond pairs exceptionally well with spicy Asian dishes like our Vegan Thai Red Curry, as the flavours harmonise to create a memorable dining experience.
ABV: 6.5% Price: £3.39 for a 330cl bottle
Rochefort 10 
Indulge in the divine taste of Rochefort 10, a genuine Trappist beer brewed by the monks of Abbaye Notre Dame de Saint-Remy. This exceptional beer offers a delightful mingling of caramel and toffee flavours, accompanied by a hint of pleasant malty sweetness that lingers long after each sip. Its robust sherry character adds a unique touch, setting it apart from other vegan-friendly Trappist beers. Rochefort 10 is a true masterpiece that beer enthusiasts should savour and appreciate.
ABV: 11.3% Price: £4.79 for a 33cl bottle
The world of vegan beer has expanded significantly, offering a wide array of flavours and styles to suit every taste. Whether you're a fan of pale ales, IPAs, stouts, or pilsners, there's a vegan-friendly beer that will tickle your taste buds. The eight beers we've explored in this article represent just a fraction of the fantastic options available. So, the next time you're in the mood for a cold one, reach for a vegan beer and savour the flavours with the knowledge that you're supporting breweries that prioritise ethical and sustainable practices. Cheers to embracing the exciting and delicious world of plant-based brews!
We're always up for more vegan beer tasting so if we have missed your favourite from this list drop us a message on instagram @rootkitchenuk and we'll be sure to give it a try!
Note: Prices mentioned are approximate and may vary based on location and availability.