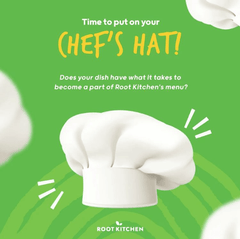 The brand-new season of MasterChef Root Kitchen is here! 🧑‍🍳
Before we launched last year we ran a competition for one of our social media followers to add one of your dishes to our menu.  We had a great response with some awesome culinary creations submitted.  Last years competition was won by the talented Nicki Skidmore and her dish Szechuan Aubergine Noodles and we had such a great time tasting and recreating all the amazing dishes that we decided to run the competition again for 2022. 
So, it's time to don your chef's hat and begin cooking because we have saved one space in our new range for one of YOUR dishes!
To participate, you must:

- Send us (through direct message) the picture and name of your dish

- Like this post and follow our Root Kitchen Instagram profile

- Tag 3 of your plant-based friends

We will then choose three finalists and let our followers vote for their favourite entry. The winning entry will become a part of the Root Kitchen menu!

Your entry should be a main course dish and must be suitable for vegans.

The contest runs from:
May 18, 2022 - June 18, 2022 11:59pm.

Finalists will be contacted via DMs and will be asked to provide the full recipe and its cooking method for their entry.
In addition to getting their dish featured in our menu there will be additional prizes with the 3rd place entry receiving a box of 10 meals, 2nd place winning 3 boxes of meals and the winner getting 6 boxes of meals to claim over the course of a year.
Last year's winning dish
Szechuan Aubergine Noodles

A few of tips we'd give to those of you who are thinking of entering is to remember that we're looking for a dish that can be scaled up to be cooked in 70L pans in our production kitchen.  Also if you can make something that tastes amazing without 100's of ingredients and processes then awesome as our chef's will have to be making the dishes on a fairly regular basis (and no one wants to make the chefs angry do they?!).
Your dish will also have to be suitable for blast freezing to a temperature of -18c and then reheated in a microwave, oven or both.
Ideally we'd like to be selling our meals in multiple retailers one day at a price point that is comparable with their own label ready meals, so even though it tastes amazing we'd recommend not going too heavy on expensive ingredients like Saffron 💸.
Oh and one more thing, we like to use locally sourced whole food ingredients where possible to reduce the distance from farm to fork.
So, what are you waiting for, get your apron on and let us see your best plant based culinary creations!  All the Best! 🌱