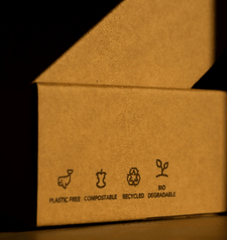 In our line of work it's hard not to think about building a sustainable future. From the fundamental principles that drive our decision to go vegan to the more obvious changes, like the unpredictable weather fluctuations that affect us globally.
One of the most talked-about issues right now is the war on plastic, and for good reason. The reckless usage of disposable plastics has been a hot topic in sustainability circles for a number of years but was brought to the mainstream by some insightful Netflix documentaries and Sir David Attenborough's Blue Planet series.  Here is what we are doing to minimise the impact Root Kitchen has on the environment.
We want to make our meals affordable for as many people as possible and want to we realise that paying £3 to £4 for a 400g - 450g meal is a lot of money, but that is what it costs to produce and buy the ingredients for our meals. Our kitchen  is BRC-accredited and we try to source our ingredients from as local to us a possible, so food quality and safety are always our top priority.  Every production includes sending a sample to a lab for testing, and our entire supply chain—from sourcing the ingredients to cooking the food to delivering it to you—is meticulously planned to ensure that our products are handled with care at every step.  
This way of making food is expensive, and we don't receive any of the subsidies that are often given meat and dairy products. Therefore we continually have to evolve as we want to remain as sustainable as possible whilst staying affordable to everyone.
We made the decision to use cardboard trays for our meals instead of the black CPET trays that are traditionally associated with supermarket ready meals.  We're always on the lookout for innovative packaging solutions and have recently trialled a number of other options including trays made from banana leaf and another that  is manufactured from post-consumer recycled material. This packaging is created by collecting and recycling bottles and trays; no additional colour is added during the recycling or manufacture process, therefore it is only available in naturally shifting tones. As a result, the colour of each tray corresponds to the particular recycled material mixture that went into making it.
All of our packaging, including the cardboard sleeves that surround the trays, are recyclable.  If you place an order through our website, the boxes, recycled denim insulation material and ice packs may all be recycled or reused.
Palm oil is also something that you'll never see in any of our meals —not even in items like vegetable stock—and we prefer rapeseed oil to margarine because it is a higher quality, 'cleaner' ingredient.
Here are a few ways that you can help to do your bit for the environment:
Single-use plastics are undoubtedly a real problem, but abandoned fishing nets account for over 50% of all plastic that is collected from the oceans. The most important thing you can do to protect the oceans and marine life is to stop eating seafood and to advocate for fisheries to use more sustainable fishing methods. We're not saying that switching to a paper straw is ineffective, but it's really important to recognise what the primary cause of the plastic problem is.
Many people also associate glass packaging with greater sustainability than plastic, whilst we agree to an extent, it isn't always.  Sand is becoming increasingly scarce due to its rising price, and sand mafias are now becoming a real problem in nations that suffer from corruption.  Depleting sand levels can also cause serious environmental issues due to increased risks for flooding, storms, and tsunamis.
Last and most importantly, assuming the current trend holds, by 2050, the production of meat and dairy will account for almost 80% of the allowed greenhouse gas budget. While it appears that everyone understands the need to stop climate change, there are a lot of people in the world are simply unaware of the enormous impact that meat and dairy production has on the environment.
You can have a significant impact by trying to get your family and friends to eat one less meat or dairy meal per week, month, or even year.  At Root Kitchen, we just care about trying our best, not about being perfect.  If you get in touch with us we'll happily give you a discount code that you can share with your friends so they can try some of our meals to encourage them to try switching to some plant-based options.
Learn more about Root Kitchen
Offering an environmentally friendly and convenient solution, all our meals are packaged in recyclable packaging and shipped using a carbon neutral courier.
Follow Root Kitchen and stay up to date @rootkitchen_uk on Instagram.