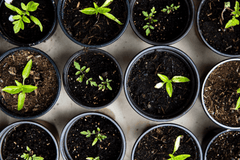 Life can be hectic (especially if you have a start up food brand!), so what better way to relax than by doing a spot of gardening? With the cost of living increasing, growing some of your own food is an awesome way to reduce your weekly food shopping trips in addition to giving you a creative outlet. Unfortunately, not everyone is fortunate enough to live in a home with a garden, especially if they live in a city centre apartment building. If this is you, don't worry—we have a fix!
While we can't guarantee you'll be completely self-sufficient, the following plants are easy to grow from a windowsill and taste amazing as a garnish for our frozen vegan meals.
We have a wide variety of plant-powered dishes to pick from, like Butternut Squash Lasagne, Tofu Tikka Masala, and Korean Tofu Noodles. The best part is that we never add preservatives or additives; your body and taste buds will later thank us for this.
So, back to the gardening.  First of all be sure to buy the appropriate window pot. It must be around 20 cm deep so that the roots have room to expand and the bottom has drainage holes. Oh and remember to place a drip tray underneath, or your windowsill will become a bit of a wet and soggy mess!
Coriander

Nothing compares to the flavour of a herb that has been grown at home, and because you probably already have the seeds in your kitchen cabinet, you can avoid having to go to the supermarket.  Coriander will need at least five hours of sunlight each day to thrive, so be sure to pick the spot with the most light.
Soak about 8 seeds in water overnight before planting. As opposed to placing them directly into the container, this will stimulate them to spout more quickly. After that, leave them on the windowsill in a sandwich bag for a few days. When a tiny white sprout appears from each seed, you'll know it's time to remove them and start planting.
Next you'll have to transfer them to a pot with moist soil that is 20 cm deep; spreading the seeds over the soil. The compost should be ready for harvest in about two weeks if you use a spray bottle to keep it moist.
Try garnishing our Aubergine Al Forno meal with some chopped coriander and a sprinkle of black pepper. Delicious and containing three of your five-a-day in one portion! Perfect for a quick and easy healthy meal.
Parsley

Not many of you will know that parsley has more vitamin C than an orange (we didn't).
This hardy little plant is relatively easy to grow. It loves a bit of direct sunlight and loads of water, but you must let the top of the soil completely dry out between waterings to prevent root rot.
Make sure the seeds are spaced 6 inches apart when you sow them and then simply pinch off the leaves to collect them after three weeks of growth.  We adore sprinkling a generous helping of parsley on top of our butternut squash lasagne.
Lettuce

The last thing on our menu is a must have for any salads or BBQ during the summer.  Lettuce seeds take around three weeks to fully develop after planting so are a great option for those of you who are impatient like me. Before planting, give the soil a good soak and sprinkle the seeds 1 inch apart.  As they germinate you'll have to thin out the seeds and keep the soil moist. Pick the lettuce leaves as you need them as they grow.

Lettuce goes with pretty much anything but we especially love it as a side with our vegan Moussaka, which is made with sliced aubergine and potatoes topped with a decadent, béchamel sauce and plant based ragu.
Let us know what we should be adding to our indroor garden by dropping us a message to hello@rootkitchen.uk