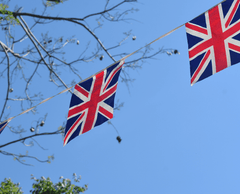 If you are hosting a street party instead of reaching for the bag of crisps, burgers, and hot dogs that most people feel obligated to serve, how about plating up something that truly honours Queen Elizabeth on her Platinum Jubilee?!
Traditionally, many people here in the UK believe that a summer gathering must involve grilled meat. It is the grill that has contributed to the development of ailments such as heart disease, diabetes, and obesity in so many of the UK population.  We're here to help you deviate from the norm. Don't give in to the pressure, become a vegan ambassador!  If nothing else, you know that bringing healthy food with you will provide good options for you and your pals.
Research has shown that animal-based meals have been connected to many common illnesses. I see every party that I attend as an opportunity for me to serve healthy, beautiful, and delicious dishes!  Every time I bring something, people start talking about it. As a result, I'm able to show them that plant-based foods are simple to prepare and delicious! Use these opportunities to explain why you wish to consume more plants to others. Many individuals believe that making healthy food is difficult and expensive. Many people believe that consuming "low-fat" animal-based protein is the only way to be healthy and it's on us to show them how different and diverse a healthy diet can be.
It has long been in the interest of big players in the meat and dairy industries, (and their marketing budgets) that has conditioned people to believe this. They've been told that they're doomed because illnesses are hereditary. When in reality, the answer is a resounding NO! Your lifestyle and what you put into your body has a big impact on your ability to steer clear of illness as you get older. Here are our ideas for what take along to your Jubilee Party:
Blackened peppers filled with salad
This recipe is one from abc good food check it out here.  A handy tip is that blackening the skins of these stuffed peppers gives them a fantastic smokey flavour, making them a great vegetarian barbecue choice. Oh and If you want to get ahead, make the buckwheat salad the day before.
Jamie Oliver's 'Best Vegan Burger'
Jamie Oliver has long been an advocate of promoting a healthy diet and we are big fan's of his 'Best Vegan Burger'.  These vegan corn burgers are packed full of flavour, will keep you full up, oh and they're good for you.  (Don't be too harsh on yourself if they don't look as good as Jamie's, ours didn't!).
Grilled BBQ Tofu Vegetable Kebabs
We actually first saw this recipe from Vanilla and Bean on the Veganuary website and we HAD to give it a try!  The end result didn't disappoint.  Saucy, acidic, and oh-so-delicious Homemade BBQ sauce is spread on grilled BBQ tofu vegan kebabs. These vegan kebabs are quick and easy to cook, plus they're full with late-summer favourites! This recipe is also gluten-free so suitable for coeliacs.
So there you go, celebrating Queen Elizabeth's Platinum Jubilee in style and spread the word about the benefits of eating a plant-based diet.