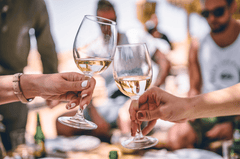 When it comes to wine, many of us associate it with a simple combination of grapes and yeast, which might naturally lead us to believe that it's inherently vegan. However, the reality is a bit more complex. Traditional winemaking techniques have often involved the use of animal products in the production process. In this article, we'll delve into the world of vegan wines, uncovering what sets them apart and presenting some of the best vegan red, white, and sparkling options available today.
Unveiling the Not-So-Vegan Side of Wine Production
In the traditional winemaking process, tiny sediment particles that cannot be filtered out were typically eliminated using animal-derived fining agents. These agents included egg whites, casein (a milk protein), bone marrow, and even fish oil. While these methods were effective in clarifying the wine, they posed a dilemma for those adhering to a vegan lifestyle. The desire for wines that align with vegan values spurred a revolution in winemaking practices.
Enter the Era of Vegan Wines
Vegan wines are those crafted without the use of animal products or by-products throughout the winemaking process. The approach taken by vegan winemakers involves either allowing the sediment particles to naturally settle at the bottom of the wine or using alternative fining agents that are plant-based. One common alternative is bentonite, a type of clay, while another is pea protein.
Discovering Top Vegan Red Wines
Aldi Toro Loco Reserva 2015 - Priced at just £5.50 for a 70cl bottle, this red wine offers a symphony of ripe fruits, dried berries, and toasty vanilla notes. Aldi proudly describes it as "seriously good." It also goes amazingly well with a vegan curry.

Co-op Irresistible Organic Fairtrade Malbec 2017 - Hailing from northwestern Argentina, this red wine, priced at £7.50 for a 75cl bottle, is a full-bodied delight brimming with plum, cherry, and jam aromas.

M&S Tapa Roja Old Vines Monastrell 2018 - For £7 per 75cl bottle, this Spanish red wine boasts an intriguing blend of intense plum and blackberry notes, coupled with a tantalizing herbal twist.
Exploring the World of Vegan White Wines
Co-op Irresistible Gavi 2017 - Crafted by the Broglia family in northern Italy, this option priced at £8.50 for a 75cl bottle is a safe haven for vegans seeking a delightful white wine.

Morrisons The Best Grüner Veltliner 2017 - At £8.25 for a 75cl bottle, this Australian white wine from Morrisons harmonizes hints of white jasmine and grapefruit for a truly refreshing experience.

Sainsbury's Taste the Difference Alvarinho 2017 - Yours for just £6.75 per 75cl bottle, this Sainsbury's white wine is an embodiment of "deliciously zingy," delivering mouth-watering freshness with every sip.
Raising a Toast with Vegan Champagnes & Sparkling Wines
Co-op Les Pionniers Champagne Brut - Priced at £19 for a 75cl bottle, this champagne offers an opportunity to indulge in luxury without breaking the bank.

GH Mumm Cordon Rouge Champagne - At £35 for a 75cl bottle, this champagne sources its grapes from over 100 different crus, maturing for 20 months to deliver bold and intensely ripe fruit flavors.

Lanson Black Label Champagne Brut - This premium option, priced at £32 for a 75cl bottle, tantalizes the palate with hints of toast and honey, deserving of its place on any celebration table.

Morrisons The Best Conegliano Valdobbiadene Prosecco - At a wallet-friendly £8 for 75cl, this Italian sparkling wine from Morrisons combines vibrant green apple and pear notes for a delightful fizz.

Sainsbury's Taste the Difference Crémant de Loire - Priced at £11.50 for 75cl, this elegant sparkling wine makes its way from the Loire Valley, treating your taste buds to a zesty apple freshness.
Pairing Vegan Wines with Your Meals
Imagine enjoying a delectable delivered vegan meal paired with a glass of carefully chosen vegan wine. The harmony between ethical choices and culinary delight is something to be savoured. Next time you're in the mood for a delightful dining experience, consider exploring the world of vegan wines.
And remember, sharing your experiences on social media not only adds to the enjoyment but also invites others to embark on this flavourful journey with you. So, why not snap a photo of your wine and dine setup and share it with us on Instagram @rootkitchenuk Your unique twist might just inspire others to embrace the world of vegan wines and the delightful experiences they bring.