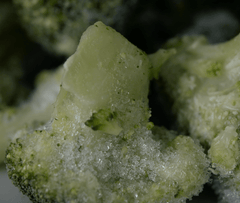 You may have heard that "fresh food is better than frozen." But, is it really?

To pack in the most nutrients, you should be buying fresh fruits and vegetables, which makes sense. Obviously, eating food that has just been picked from the garden is the dream, but in reality, most people don't have the time or green fingers to devote the time and work required to keep on top of a garden. However, did you know that studies show that frozen food is actually often healthier than fresh food?
At Root Kitchen, we are big fans of frozen food and want to spread the word to about the numerous plant-based options that are available (apart from our frozen vegan meals of course!).  Here are four examples of when frozen plant-based cuisine is better than fresh:
Vitamins, minerals, and phytonutrients are all preserved in frozen foods.

It is a common misunderstanding that frozen food is not as healthy as fresh food however there have been loads of studies that show that frozen food is in fact extremely nutritious. According to one study that was published in the Journal of Food Composition and Analysis, frozen produce is often more nutritious than fresh produce that has been preserved for 5 days. Let's look at the reasons why......
Fresh produce begins to lose nutritional value shortly after it has been harvested. To combat this many farmers will blanche fresh fruits and vegetables are before being submerged in ice water to prevent them from cooking. This technique deactivates living enzymes while preserving the enzymes and nutrients in the produce. Frozen goods are more nutritious than fresh vegetables, which can sit on shelves in the supermarkets for up to seven days. 
However, not all frozen foods are made equal. At Root Kitchen we make nutritious, frozen vegan ready meals using locally sources, natural ingredients and then blast freeze straight away to lock in all the nutrients, vitamins and minerals.
No longer are all frozen ready meals full of sodium, fat, and sugars.

We are lucky to live in an age where frozen ready meals don't have to be a precursor for unhealthy, over processed foods that are full of fat, salt and sugar. OK there will be some, mass produced meals on supermarket shelves which include loads of fat and sugar (hopefully not for long with upcoming HFSS legislation here in the UK) but one look at your instagram feed will show you there are many more nutritionally led meal prep companies offering healthier options. Ordering from a trustworthy company like Root Kitchen, where our purpose is to offer nutritious, tasty, chef-prepared meals, is your best chance. 
Frozen Food Can Save You Money.

As much as I really enjoy it, there's no denying that eating out is costly nowadays.

According to recent research, Brits eat out at their favourite restaurants at least three times each month, spending an average of £695.76 per year, or 3% of their annual take-home pay and for some of us (ahem) this cost is significantly more. This is an average of £13.38 every week. As the average meal out costs around £22 per head (without wine), substituting one night out for one night in each month could save you more than £250 - or £500 if you are part of a couple - every year. You'll be relieved to hear that frozen dinners are less expensive. Everyone has to live a little, especially after being cooped up in our own homes for the past two years however ordering from a service like Root Kitchen, you can get 100% plant-based, chef prepared meals with no prep, cooking, or clean-up on then rushed midweek evening when cooking isn't an option and you may've been tempted to pick up a takeaway on the way home.
Looking for Convenience? Choose Frozen.

We love cooking but there are times when you just can't face cooking meals from scratch, it may be the thought of cooking a different dinner for the kids, your partner and then yourself that fills you with dread or it may be just that you don't have time during the week. Frozen food can five you an option to make sticking to you plant-based diet easier by grabbing a nutritious, tasty dinner from the freezer.

Meal preparation and washing up takes an average of 37 minutes to 1 hour in the UK. This doesn't even account for time you spend eating the meal. If you're short on time, frozen food is your best bet because getting a nutritious meal from the freezer and getting them delivered on a subscription basis will save time and also take away the hassle of queuing in supermarkets.
Frozen Food = Less Waste
OK so I said there were four reasons to choose frozen food but for us the most important reason to choose frozen is to waste less!  Think about it, our Root Kitchen meals have been nutritionally balanced to give you a perfect amount for one person.  This saves you buying loads of ingredients that you may use parts of and then will go off in your freezer (soggy lettuce anyone?).  It'll also save you from over portioning and give you a different dinner for every night of the week, because no-one likes eating the same pasta dish reheated every night do they?