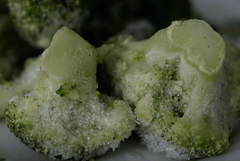 When we first set out on the journey with Root Kitchen we wanted to develop a range of chef-prepared, frozen vegan meals to give people a convenient option when they don't have time to cook from scratch. Frozen food has many benefits, as the price point is often affordable and shelf life long making them the ideal option to have on hand for emergencies or when you don't have time to shop.
However, if you are more prepared, the freezer can also come in handy a number of other ways.  Here are some ideas for vegan ingredients that can be stored in the freezer to make meal prep and cooking easier:
Chopped vegetables: Pre-cut vegetables can be a great time-saver when you're short on time. Some vegetables that freeze well include bell peppers, onions, broccoli, and cauliflower.

Cooked grains: Cook a batch of grains like quinoa, rice, or oats and store them in the freezer to add to soups, stews, or to serve as a side dish.

Legumes: Cooked beans, lentils, and chickpeas can be frozen and used in a variety of dishes like soups, stews, and veggie burgers.

Soups and stews: Make a big batch of soup or stew and freeze it in individual servings for a quick and easy lunch or dinner.

Nuts and seeds: Nuts and seeds can be prone to rancidity, so it's a good idea to store them in the freezer to extend their shelf life.

Fresh herbs: Chop fresh herbs and store them in an ice cube tray with a little water for easy addition to soups, stews, and sauces.

Smoothie packs: Cut up your favourite fruits and vegetables and store them in individual bags or containers to use in smoothies.
Do you have any tried-and-tested methods for storing food in your freezer?  Share your best tips for storing food in the freezer via our instagram @rootkitchen_uk.  Whether it's a hack for keeping produce fresh or a technique for organizing your frozen goods, we'd love to hear your ideas. Let's all learn from each other and make the most of our freezers