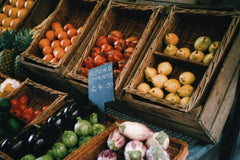 Summer is in full swing (for this week at least), and if you're looking for a fun and family-friendly way to enjoy the great outdoors, we've got the perfect idea for you – visiting vegan markets! Whether you're a seasoned vegan or just curious about plant-based living, these markets offer a fantastic opportunity to explore a world of delicious vegan food, cruelty-free beauty products, eco-friendly household items, and much more. What's even better is that many of these markets prioritise organic, sustainable, locally sourced, and ethical products, so you can shop with a clear conscience. So, grab your family, friends, and reusable shopping bags, and let's embark on a vegan market adventure this Autumn!

1. Cheshire Vegan Fair - 14th October
Location: Cheshire, England

Kicking off our list is the Cheshire Vegan Fair on October 14th. This fair promises to help you "Live A Better Life" with 30 stalls offering a wide array of vegan delights. From scrumptious vegan food and drinks to natural beauty products and handmade gifts, there's something for everyone. Plus, by supporting this event, you're contributing to a more compassionate and sustainable world.

2. Farm Animal Sanctuary Festival - 9th - 24th September
Location: Various locations

With events running throughout September, make sure you check out the Farm Animal Sanctuary Festival. These unique events feature children's activities, informative talks and demonstrations, and an impressive lineup of vegan street food vendors. Additionally, you'll find artisan bakers, craft brewers, ethical jewellers, sustainable chandlers, local artists, zero-waste champions, and environmental charities. It's a holistic experience that educates, entertains, and feeds you well.

3. Whitstable Vegan Market - 17th December
Location: Whitstable, England

If you're looking for cruelty-free Christmas presents, head to the Whitstable Vegan Market on December 17th. This market offers a fantastic range of products, including delectable food and drinks, skincare essentials, and unique gifts. By shopping here, you can support businesses that are dedicated to making the world a kinder place for animals.

4. Windsor Vegan Fiesta - 25th November
Location: Windsor, England

Windsor Vegan Fiesta, happening on November 25th, is a delightful event where you can indulge in a variety of mouthwatering vegan treats. From hot food, prepared vegan meals and cakes to pastries and deli items, there's no shortage of culinary delights. Besides food, you'll also find natural skincare products, eco-friendly gifts, and artisan goods that make for excellent souvenirs.

5. Sherwood Vegan Market - 9th September
Location: Sherwood, England

Organised by Adrian Bhagat, the owner of The V Spot Supermarket, Sherwood Vegan Market aims to provide vegan customers with a relaxed shopping and dining experience. This is the perfect opportunity to explore a diverse range of plant-based products while enjoying a friendly atmosphere.

6. Wokingham Vegan Market - 10th September
Location: Wokingham, England

The Wokingham Vegan Market, set for September 10th, promises a day filled with delicious food, tempting chocolate treats, natural skincare products, eco-friendly gifts, live music, and children's entertainment. It's an ideal outing for the whole family, combining good food with great fun.

7. Vegan East London - 30th September
Location: East London, England

For a truly immersive vegan experience, don't miss Vegan East London on September 30th. This event boasts over 35 of the best vegan traders in the UK, offering everything from hot food and mouthwatering desserts to ethical shopping opportunities and unique experiences like tattoos, nail art, piercings, and barber services. The entertainment doesn't stop there – an after-party keeps the vibes flowing until the wee hours.

8. Kent Vegan Market - 17th September
Location: Canterbury, England

The Kent Vegan Market, located in the beautiful St. Peter's Anglican Church on the High Street in Canterbury, offers not just vegan shopping but also a mini festival atmosphere. You can enjoy regular speakers, cooking demonstrations, live music, and a fabulous array of vegan stalls. It's a celebration of all things vegan in a charming setting.

9. Newbury Vegan Market - 19th November
Location: Newbury, England

The Newbury Vegan Market on November 19th promises a wide range of vegan stalls, including delicious street food, baked goods, sweet treats, ethical clothing brands, cruelty-free cosmetics, arts and crafts, charities, and outreach initiatives. Don't forget to visit the information tent for free samples and discover fantastic local vegan brands and businesses.

10. Horsham Vegan Market - 30th September
Location: Horsham, England

On September 30th, the Horsham Vegan Market offers affordable, eco-friendly, and sustainable products, ranging from starter kits to everyday essentials. This market is a haven for environmentally conscious shoppers looking to make eco-friendly choices in their daily lives.

11. Bracknell Vegan Market - 30th October
Location: Bracknell, England

Rounding out our list is the Bracknell Vegan Market on October 30th. Here, you'll discover stalls featuring amazing hot food, scrumptious cakes, tasty pastries, delicious deli items, natural skincare products, eco-friendly gifts, and artisan goods. It's the perfect way to end the month on a vegan note.

These 11 vegan markets on throughout this Autumn offer a delightful combination of delicious food, cruelty-free products, and a chance to support ethical and sustainable businesses. Whether you're a long-time vegan or just curious about the lifestyle, these markets provide a fantastic opportunity to explore the world of plant-based living. So, gather your loved ones, bring your reusable bags, and head out for a day of vegan fun and discovery. Don't forget to capture your experiences and tag us on Instagram – we'd love to see your adventures @rootkitchenuk.
Enjoy your visit to these fantastic vegan markets this Autumn, and let's continue to make compassionate choices for a better world.  For those of you looking for some convenient vegan meals delivered, make sure you order from us this September using the offer code SEPT30 for 30% off your box this month.