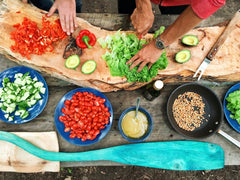 Eating healthily when you have a hectic schedule can be a real challenge. From food shopping to meal preparation, it can seem like an daunting task. However, there are simple solutions that can fit into even the busiest of lifestyles and won't add more stress.

Although maintaining a healthy diet may not be at the top of your priority list, nourishing your body with nutritious food will actually increase your productivity and energy levels. You'll feel better, perform better and be the best version of yourself.

Root Kitchen, a health and convenience-focused company, has asked our in-house nutritionist Emma Hogarth, to provide tips on how to eat well even when you're overwhelmed.

1.  Cook once, enjoy all week.
If you're too tired to cook after work, consider batch cooking over the weekend. Prepare several meals at once and simply reheat them throughout the week. This way, you'll always have a ready-to-eat, home-cooked meal on hand.
2.  Do your food shop online
Opting for food shopping delivery can save you a lot of time and reduce stress. Online food shopping services make it simple and convenient. Moreover, ordering groceries online helps eliminate the temptation of impulse buys when shopping on an empty stomach. Root Kitchen's fully prepared vegan meals are a great option, as they are packed with nutritious ingredients.

3.  Stock up on healthy snacks
When hunger strikes, it can be tempting to reach for junk food from a vending machine. Instead, carry healthy snacks with you, such as a piece of fruit, a handful of nuts or a hard-boiled egg stored in a ziplock bag. To save time, boil a batch of eggs at the beginning of the week for quick and easy snacking.

4. Dig out your old slow cooker
A slow cooker is a great solution for busy days when you work long hours. Simply add your stock and vegetables in the morning and come home to a healthy, delicious meal. Dinner is taken care of!  Check out our vegan slow cooker recipes.

5.  Prepare a nutritious breakfast
Starting your day with a healthy breakfast is key to staying on track. Consider preparing your breakfast the night before so you can grab-and-go in the morning. Chia pudding, overnight oats or yogurt with fruit are good options, or you can make a quick and nutritious smoothie to drink on the way to the office.
6.Stock up on canned beans
Having a variety of canned foods in your pantry will be convenient for those days when you need to whip up a meal quickly. Beans are a nutritious option, as they are high in protein and simple to heat up and pair amazingly well with rice, and soups. While cooking dried beans can take several hours, canned beans can be ready in a matter of minutes. Just be sure to choose a low-sodium option and rinse the beans before use.

7. Keep nut butter in the fridge
Having a jar of your favorite nut butter (such as almond butter) in your fridge will make for a quick and healthy snack option. Spread it on toast, an apple, or blend it into a smoothie.

8. Make use of frozen fruits and vegetables
Frozen fruits and vegetables can be just as nutritious as fresh produce, and they can also be more budget-friendly and time-efficient. Keep bags of frozen cauliflower, broccoli, spinach, and edamame in your freezer for easy smoothies, soups, and stir-frys.

9. Prepare vegetables ahead of time
Incorporating more vegetables into your diet can be challenging, but there's an easy solution. Dedicate 30 minutes on a Sunday to wash and slice your preferred produce, then store them in airtight containers. This way, you can easily grab them as a snack or add them to your simple dinners like stir-frys or salads.

10. Opt for bulk purchases
To save time and reduce the number of trips to the grocery store, consider bulk purchases. Some of the healthiest foods to buy in bulk include grains such as brown rice, millet, quinoa, and oats, which can be stored in airtight containers or jars. You can also buy frozen veggies, dried fruits, dried beans, and gluten-free pasta.
11.  Invest in a Blender
A blender can be a helpful tool in eating healthier (I'd be lost without mine!). With a high-quality blender, you can effortlessly make breakfast smoothies, nut butters, and even healthy desserts. Additionally, you can use a blender to prepare non-dairy milk options like cashew, almond, or hemp milk, as well as coconut or almond flour, pureed fruits and vegetables, and homemade pizza dough.

12.  Have Breakfast for Dinner
If you're struggling to come up with a healthy dinner idea that isn't just a salad, consider having breakfast for dinner. Vegan omelettes offer a great chance to include meat alternatives, vegan cheese, and veggies in one quick and easy meal.

13.  Use Your Microwave!
Contrary to popular belief, microwaving your food is not unhealthy. According to a study by Harvard Health, it actually helps to retain more nutrients in food, making it a nutritious option for quickly warming up meals and freeing up time for other activities.
Root Kitchen delivers healthy, chef-prepared vegan meals to make following a plant based diet convenient and delicious, order now using the code ROOTLOVE25 for 25% off your first order.