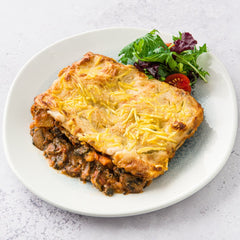 At Root Kitchen, we want to put delicious plant-based food on every dinner table. In January 2021, right in the heart of COVID, we launched Root Kitchen. We're all about sharing comforting dishes that are healthy and hearty whilst making eating a plant-based diet easy. At Root Kitchen, this is at the heart of all we do.
When we were thinking about our first product, we wanted to come up with something that really had this aim in mind and we thought what better way to start than with a Vegan Lasagne.
We were already familiar with the benefits of a plant-based diet before launching Root Kitchen. Furthermore, there is a nutritional trend in favour of this, whether it be through skipping a meal a day, a week, or a month. However, despite these advantages, we discovered that the transition to a plant-based diet is difficult and fraught with obstacles. We talked with friends who are vegans, plant-based, or plant-curious (also known as flexitarians) for a while to learn more about their perspectives and experiences because we wanted to understand how to meet their needs with our launch range.
The Inspiration for our Butternut Squash Lasagne
As we began to speak to more people we started to pick up on the same common themes:

Plant-based eating may be isolating, according to Rob, a vegan and plant-based eater who spoke with us. This difficulty seems to be quite common but is rarely discussed. Rob mentioned how uncomfortable he felt at family gatherings or other social dining situations. He expressed his wish to consume only plant-based foods on a regular basis, but acknowledged that it was difficult due to the pressure of having to defend himself and, at the time, the scarcity of plant-based foods. When he brought up his plant-based diet, he even felt like a burden and like he was "rocking the boat." a situation that Rob didn't like at all.
When we learned about his difficulties, we had to ask him how he was able to maintain his plant-based eating habits in those situations. "So, in this case, what do you do? How would you prepare?

Then Rob talked about how he is known for bringing his home made vegan lasagne to parties.  He doesn't cook this dish frequently because of the effort required, but he claimed that it is worthwhile every now and again.  Everyone loves his vegan lasagne when he brings it to those events, and no one ever notices that it is totally vegan because they are all having a great time. Nobody moans about his plant based creation as it is so filling, delicious and satisfying.
After talking to a lot of people, we learned that comparable experiences with eating plant-based meals and missing out on the joy of communal sharing were common. And not everyone had the cooking skills that Rob did.
By this time, we were certain that we wanted to make plant-based meals that was perfect to share, but what dishes should we start with? When Robs's words, particularly "filling" and "delicious," came to mind, we instantly thought back to his story of the vegan lasagne.  We get that bringing up the topic of how easy eating a plant-based diet can be without being confrontational and it's all about finding a common ground.  Diet is a big part of people's lives and they are often more open to discussing it and broadening their horizons when they are eating together. 
Rishma and I also both transitioned to eating a plant based diet early in our journey with Root Kitchen, therefore we understood the common issues. Sharing a meal with loved ones who might not be as accepting of a plant-based diet is difficult. We  realised we can make plant-based eating and socialising simpler if we can develop comfort foods with similar textures, flavour profiles and mouth feel. Our could be the perfect the catalyst for the next discussion at a family party about how simple, nutritious, and filling a plant-based diet can be.
Starting With Lasagne
Rob's story got us thinking. Although he wouldn't cook lasagne every day, he said that it is a guaranteed crowd-pleaser. We decided, what better dish to start with than a delicious vegan lasagne with hearty lentil rags, authentic béchamel style sauce and a generous helping of vegan cheese to give it perfect 'crispy edges' when it is prepared in the oven.
Back in late 2019, we couldn't find any vegan lasagne's in supermarkets. There were meat lasagnas available in individual and multi portion sizes, but there were a noticeable lack of plant-based options.   We knew that we had to come up with meals that would fill gap in the supermarket  freezers and began experimenting with making vegan versions of classic family favourites. We want everyone to have access to great vegan food that is convenient to make, cooked by chefs, and made with locally sources, natural ingredients. 
Rishma and her development chefs made it their mission to create the best frozen plant-based lasagna you can buy (and we had a lot of fun tasting in the development process!).
About Root Kitchen
Offering an environmentally friendly and convenient solution, all meals are packaged in recyclable packaging and shipped using a carbon neutral courier.
Follow Root Kitchen and stay up to date @rootkitchen_uk on Instagram.