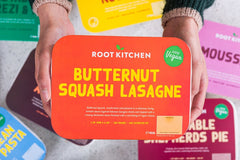 We first began developing our vegan lasagne in June 2020, and we released it in January 2021. We came up with the concept, the recipe, and the packaging for Root Kitchen's Lasagne, as well as the rest of our launch range including the popular Vegan Shepherd's Pie and Tofu Tikka Masala, in just six months.
We discussed our market research which revolved around interviewing vegans, plant-based eaters, or people looking to eat a more plant-based diet in our previous blog post. We talked with over thirty of our target demographic about difficulties they encountered when adopting a plant-based diet, their shopping habits, and what kind of meal solutions they'd like to see. Some of the most important things we learned were:
Eating solely plant based is often seen as challenging. There is a constant battle to find the right response to the question "what to eat?" whether eating at home or eating out. Planning and cooking might be difficult for people who have recently switched to a plant-based diet, even more so households in households that have people with different diet preferences.
A lunch like the one described above that has a variety of different dishes  might take hours to prepare and is frequently not possible for people who work full-time. Additionally, there are additional challenges with a plant-based diet:
One criticism of alternative proteins in particular is that their labels are not often what you would clean label.  There is also the question of certain plant based alternatives having a large number of options, for example how many different kinds of vegan chicken nuggets do people need?
Sharing food is difficult, not just on special occasions like family get togethers, but also during regular dinners. Cooking a few different meals or attempting to make food that will satisfy everyone is often the case when living with family members who do not follow a plant-based diet.
We went to the supermarkets as well, and we browsed the aisles to see what was offered. It's difficult to get a product listed in the freezer section. There is a lot of products often crammed in to not a lot of room. The vast majority of the choices we discovered were mass produced and lacking in nutritional value. Sadly, there weren't many plant-based options.
We spotted a market opportunity in, affordable, convenient, healthy vegan dinners. If it's filling, simple to prepare, and made with healthy plant based ingredients, there must be a market for it. Using vibrant colours and designs that were focused on food, we also wanted to ensure that our packaging stood out.
When developing our vegan lasagne, we knew we wanted to use as many natural ingredients as possible. This meant avoiding the vegan meat substitutes, which frequently have often contain numerous flavours or preservatives. Additionally, we wanted to use quality ingredients such as extra virgin olive oil.
Next, we got into the kitchen and started creating!  Chef Lyndon has over 25 years of experience, while Rishma has a background in food product development.  After a few weeks in the NPD kitchen, Lyndon presented his first versions of what would become our butternut Squash Lasagne.
We kept making adjustments as we prepared more and more lasagnas to ensure that the components were exactly balanced.

We made the decision to make the base from a lentil ragu.  Lentils are not only filling and hearty, but delicious and packed full of nutrients. Our vegan béchamel sauce recipe was refined, and after two months of experimenting the two were combined to make a bangin' multi-layer lasagne.
In the background we'd been working on our website, other recipes andall the packaging designs and slowly by this point and were getting ready to launch Root Kitchen meals to our D2C customers.

Keep an eye out for Part 3 of our behind the scenes journey where I'll cover  our launch and first production of our meals!
About Root Kitchen
Offering an environmentally friendly and convenient solution, all meals are packaged in recyclable packaging and shipped using a carbon neutral courier.
Follow Root Kitchen and stay up to date @rootkitchen_uk on Instagram.