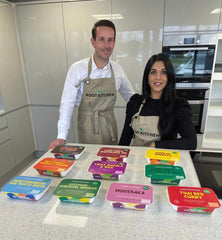 On the 11th of January the Root Kitchen has officially been open for business for two years, and we can say it has gone by in a blur of ups and downs and has taken us on a journey that has far exceeded our expectations. This year gave us more than we bargained for, with increases in the price of ingredients, supply chain and energy costs thanks to numerous external factors that were both hard to forecast on totally out of our control. The past 12 months have been a daily melting pot of introspection, reflection, and growth, with many lessons learned, new relationships formed, and even more reasons to be grateful for this journey we've set out on.
Despite all of the changes and uncertainty over the last year, our mission has remained the same: to help as many people as possible to put good, nutritious, plant-based food on their table. This past year, we hope that our focus on heading towards that mission has made some of your lives a little bit healthier and happier.

We'd like to take this opportunity to thank you, our amazing customers, so much for supporting Root Kitchen to grow into what it is today.  In this post, we'll look back at some of the goals we've ticked off with your help, as well as look ahead to what's next for Root Kitchen.
Together, we are stronger.
Although we were planning Root Kitchen for many months before, we launched when the UK was in the middle of numerous lockdown restrictions brought about by the global COVID pandemic.  We didn't anticipate the demand from the outset and our talented and hardworking team but in huge amounts of effort not only to successfully launch our business but also to support vulnerable people in our community during this difficult time. 

Throughout the pandemic, we were able to offer chef-made, plant-based meals to people who were confined to their homes. However, we also wanted to use our business to help those who couldn't afford to consistently order meal boxes.
We partnered withe the charity One Feeds Two to donate the cost of a school meal to a child in the developing world for every Root Kitchen meal we sold via our website, a partnership that we have carried on and are looking to grow as we do.
Secondly, the town of Blackpool, code to where we make our meals regularly features as one of most deprived areas in the UK.  We set up a number of partnerships to donate our excess yield to our local food banks and homeless charities, to help support some of those who are most in need of a hot meal.
We're incredibly appreciative of all the opportunities we've had in the past year to something give back, as well as of all the help we've received from you, our customers, along the road.
A Move to Supplying Retail
Last year we began to supply wholesalers with our meals for the first time and managed to get listings with some of the UK's leading independent health food suppliers, including CLF, Tree Of Life, The Health Store and most recently Suma Cooperative.
This was an important step in the right direction as we believe that the independent retail sector is vital for building traction, getting feedback and supporting small challenger brands as they take the first, tentative steps towards mainstream distribution.
We've really enjoyed supplying these wholesale customers and have had some amazing feedback from independent retailers and their customers as they discover our meals, so heading in to our third year, we are going to be focusing on continuing to build this channel.
What's Next?
Right back when we first started Root Kitchen, our aim was to make affordable nutritious vegan ready meals that are accessible to everyone, not just those who can afford to buy monthly subscription boxes online.
To do this we need to increase our distribution (the number of shops where you can buy our meals).  Rishma and her development team have been working really hard to develop a range of meals that would hit the required price point to work in the multiple retailers and I have been working with our amazing marketing agency on a re-brand which will give our website a much needed upgrade and give us some retail ready packaging which will make our meals stand out in the busy supermarket freezer cabinets.
We've both also been reaching out to potential stockists and shortly before Christmas we were given confirmation of our first listing with one of the major retailers which is scheduled for later this year.......So stay tuned for clues on where you will be able to buy Root Kitchen meals soon!
On that note I'm going to end today's blog post but not before saying thank you again for your help in helping us to grow Root Kitchen, two years after we sold our first meal.  Let's keep working together to realise our vision of nutritious, vegan meals a price that is accessible to everyone! 🌱❄️