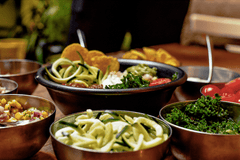 We're continuing our seres of Veganuary support blog posts today by looking at how to ensure you can stick to your vegan diet when eating out or traveling.
Eating out and maintaining a vegan diet while traveling can seem like a daunting task, but with a bit of planning and some creativity, it's completely manageable! Here are a few tips to help you navigate the dining scene while on the road.
Research vegan-friendly restaurants in advance: Before you head out on your trip, do some research to find vegan-friendly restaurants in the areas you'll be visiting. Many cities and towns now have dedicated vegan restaurants, but even if there aren't any specifically vegan restaurants, many mainstream restaurants will have at least a few options that are suitable for vegans.

Learn some key phrases in the local language: Knowing how to say "I'm vegan" or "I don't eat meat, dairy, or eggs" in the local language can be a big help when ordering at restaurants. This will also help you identify vegan options on menus that may not be clearly labeled.

Be creative with menu items: Even if a restaurant doesn't have any explicitly vegan items on the menu, you can often make a meal out of a combination of sides and starters. Grilled vegetables, salads, and bean-based dishes are often vegan-friendly options.

Pack snacks and essentials: Packing some snacks and essentials like protein bars, nuts, or peanut butter can be a lifesaver when you're on the go and can't find vegan meals. This also works well for situations when you are in a rush and don't have time to sit down for a full meal.

Get familiar with local cuisine: In many parts of the world, traditional cuisine is often based around plant-based ingredients like grains, legumes, and vegetables. Familiarize yourself with the local cuisine before you leave and you'll be more likely to find vegan-friendly options.

Don't be afraid to ask: If you're unsure whether a dish is vegan or not, don't be afraid to ask the chef or waiter. Many restaurants will be happy to make adjustments to menu items to accommodate your dietary needs.
With a little bit of preparation and some flexibility, it's totally possible to maintain a vegan diet while traveling. Happy eating!