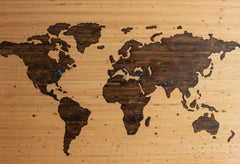 As things are pretty much back to normal after the coronavirus pandemic, I recently wondered: Would this pandemic have happened if animals weren't raised industrially for food and other uses, and we lived in a truly vegan society?
Many of us are also thinking about the state of the climate and what we can do to change it. Veganism promotes environmental awareness, cruelty-free living, and may even give you a "glow up" (if you're new to it).
Let's get some inspiration from people who do it well. There are certain plant-based societies across the world that take pride in their veganism and have long, productive lives. I'll take you on a little virtual tour of the globe and delve into a few classic vegan places on this sunny Sunday afternoon.
In Okinawa, Japan the population are renowned for their lifespan. This is down to a number of factors including their close friendships and familial ties, sense of purpose, and most importantly their largely plant-based diet, which lowers the risk of dementia, cancer, and heart disease. This diet has gained popularity in the west because it is so effective. Okinawans consume sweet potatoes, stir-fried veggies, and a variety of soy products, such as miso and tofu. The majority of these foods are low in calories and high in nutrients.
The Brokpa people of Ladakh, India are a population that has followed a plant-based diet for more than 5,000 years. In addition to eating a lot of roasted potatoes, spring onions, and boiling cauliflowers, they also harvest their own barley and drink a lot of black tea. The majority of its members are well into their 90s despite living in a mountainous area.  Go tell your old grandad that!
The Jerusalem-based African Hebrew Israelites reside in Neve Shalom in Dimona. There are about 3000 residents in this vegan hamlet of peace, which has been around for 50 years. This community opted to build their own factory, known as Teva Deli, because it had very little access to soy milk or tofu when the hamlet first started. According to them, this company is now flourishing and promotes veganism throughout their country.
I hope this post helps you to explore some new vegan superfoods, now I'm off to follow my own advice and go to the supermarket to buy some banging new ingredients for this afternoon's Sunday dinner, have a good weekend everyone.