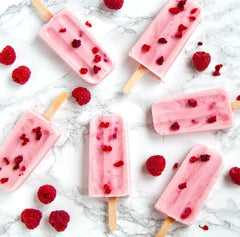 Yay! Summer is finally here (for a few days at least) so we thought we'd share this super simple recipe for vegan ice lollies to keep you all cool.
Using only 3 ingredients and taking only 5 minutes to prepare its so easy that even the least natural people (ahem me) can make these vegan ice lollies easily, making them the ideal snack on a sunny afternoon.
Oh and if you have kids, they're sure to be a big hit, are made with natural ingredients and will work out much cheaper than a shop bought equivalent. Talking of supermarket's the first thing you'll need to do is head to your local one and pick up some blueberries, water and maple syrup and your all set!
So, next up, add your maple syrup, blueberries and water to a blender and blitz on a high speed until you are left with a smooth liquid mix, then simply just pour the mixture into reusable lolly moulds (there's loads available on Amazon however we picked up our for a bargain £3 for 12 moulds at The Range).  Once you've done this step just pop your lollies into a freezer for a minimum of 5 hours until they are frozen solid.
Because these berry frozen treats are so simple, you can use any berries that you may already have in the freezer or prefer the taste, so far I've tried them with cherries, strawberries and raspberries and they're all equally as delicious.
The final steps you will need to do once the lollies are set is to run the frozen moulds under warm water to loosen them, remove from the mould and et Voila! a delicious, home made vegan ice lolly for you and your family to enjoy.
Don't worry though because as much as we've enjoyed trying out different flavours of lollies I don't think Root Kitchen be switching from making vegan ready meals to vegan ice lollies, not least as shipping meals in this heat is difficult enough!  Luckily this year we have sheets of ice packs and our new double walled cardboard boxes to add to our recycled denim insulation liners to ensure your meals arrive to you still frozen and ready to pop in your freezer.
If you've read this far and fancy trying out some of our meals, (because the last thing you want to be doing on a sunny evening is slaving away in the kitchen right?!) please use the code LOLLY20 for 20% OFF your next box of Root Kitchen meals.
Offering an environmentally friendly and convenient solution, all meals are packaged in recyclable packaging and shipped using a carbon neutral courier.
Follow Root Kitchen and stay up to date @rootkitchen_uk on Instagram.