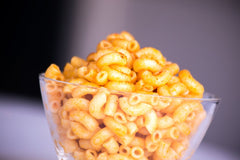 As most of you guys who are signed up to our newsletter will know, we are right in the middle of developing 10 new dishes for our menu and in doing so we've been experimenting with some classic go to dishes.  Growing up my mum used to dish up the most amazing, luxurious Mac & Cheese to my brother and I and when it was passed on to me and quickly became a go to quick dinner for my two daughters.  Well, we wanted to recreate this recipe and veganise it and after hundreds of iterations we think we've finally arrived at something that is delicious, filling and nutritious (even if we do say so ourselves).  We've even managed to sneak some veg in there too which should go under the radar of even this fussiest of little ones. 
So, if you are looking for a plant based version of this popular comfort food check out the recipe below and let us know what you think in the comments section. We'd love to see your efforts so make sure you share it to social media and tag us on insta @rootkitchen_uk.
Vegan mac and cheese recipe Ingredients
First off you'll need to make  a trip to your local supermarket and whilst most of the ingredients are vegan pantry staples you want to make sure you are putting the freshest ingredients in to get the Mac of your dreams!  You'll need...... 
Alpro Soya Milk - 450g
Violife Vegan 'Cheese' - 50g
Macaroni - 250g 
Sweet Potatoes - 70g
Boiled Potatoes - 70g
Nutritional Yeast - 50g
Cherry tomatoes (slice them in half) - 100g 
Spinach (fresh or frozen) - 40g 
Corn Starch - 8g 
Garlic cloves, (minced finely) - 2 
Lemon juice - 12g
English Mustard - 18g 
Miso - 18g 
Rapeseed Oil - 8g
Cooking Instructions
Poke a few holes in the potato/sweet potatoes and microwave for 6 to 8 minutes, or until the inside is mushy, which will allow you to effortlessly steam them in the microwave.   Remember to handle with care when taking them out though as we've all heard the one about the hot potato!
Remove the skins from your sweet potato and potatoes.
Next the potato, sweet potato, Violife, lemon juice, veg bouillon, garlic, mustard and miso should all be added to a mixer and blended until the mixture has the consistency of a smooth paste. For those of you who don't have a blender this can be done by hand you'll just have to make sure to chop the block of Violife into as small pieces as possible (don't worry if there are still some lumps; they'll melt as the dish is cooked later).
Oil should be heated in a pan to a hot temperature. 
Stir the corn flour into the oil gradually, a little at a time, until it's all in there. 
Pour the Alpro Soy milk in gradually, a small amount at a time, until it is thoroughly mixed with the oil/flour combination. You should end up with a mixture that looks like melted ice cream. 
Stir frequently as you pour in the sweet potato and potato mix. The mixture will start to look like a sauce after five minutes, when all of the Violife will have melted. (resist the urge to lick the spoon at this stage).
According to your taste, slowly add in the seasonings and nutritional yeast.
Place your sauce to one side and turn off the heat. 
Boil your pasta as you'd usually like it. 
Add your sauce, tomatoes and spinach (shhh) to the cooked/drained pasta. 
Grab a bowl + fork and Dig In!
Additional Info
Contains 4 servings
15 minutes for preparation 
20 minutes for cooking
Keep your eyes peeled over the next month or so to see if our Vegan Mac & Cheese makes it on to our new menu and in the mean time, on them rushed midweek evenings when you don't have 35 mins to spare, be sure to keep some of our convenient frozen vegan meals in your freezer to help you still serve up some tasty and nutritious.
Offering an environmentally friendly and convenient solution, all meals are packaged in recyclable packaging and shipped using a carbon neutral courier.
Follow Root Kitchen and stay up to date @rootkitchen_uk on Instagram.