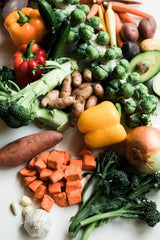 To be honest, before joining my wife's family business I had no experience of the food industry, so until I started chatting to Rishma about developing a new range of vegan meals I pretty much underestimated the amount of effort required to bring a product to market. In my mind, we'd come up with a recipe in the kitchen, present it to a retailer, and it'd appear on all of the shelves the next day.  Needless to say, it didn't work out that way, which is probably for the best because I wouldn't love the process half as much if it was that simple!
So here we are, on this blog post I'll give you all a run down on how the new product development process goes here at Root Kitchen....The initial stage in the process was to create a range of products.  Despite the fact that we had spent hours coming up with ideas, we understand that we'd need some assistance in scaling up any of our recipes so that they would work in larger production runs. We collaborated with our development chefs Lyndon and Nathan of Laila's Fine Foods for help with our New Product Development (NPD) and basic understanding of what would be able to be replicated at scale without losing any quality (or flavour!).  So in order to show you guys the process let's look at one recipe in particular, the butternut squash lasagne.
You'll find pages and pages of vegan lasagne recipes if you conduct a fast google search for "vegan lasagne." Cashews are used in som to create the béchamel saucee, a roux is used in others, and a lot of vegan cheese is used in others. We tried every sauce variety imaginable over the course of a month, keeping a few things in mind: 1) it had to be delicious, 2) it had to be stable when frozen and reheated, 3) it had to be nutritionally sound and free of preservatives and additives, and 4) it had to be cost-effective for the end customer.
Looking at everyone's notes from our development sessions, I see that we tested more than 40 different versions. We'd go through the factors one by one. What kind of non-dairy milk, for example, should we use as a base for the white sauce? Coconut milk, rice milk, oat milk, soya milk, and almond milk were all put to the test. Each had advantages and disadvantages, but we decided on soya milk because of its creamy smoothness and smooth texture and also it didn't split when the meal was frozen. Then we needed to make sure we could get huge volumes of a suitable soya milk. Importantly, we wanted to find a soya milk with only water and soya beans as ingredients, so we had to do some research to make sure our preferred milk would work.
We then put vegan cheese and nutritional yeast to the test.  As you may know "nooch" is a secret weapon in many vegan kitchens, for those who don't know. It's just yeast - the same kind you'd find in bread – and it gives anything you put it in a cheesy flavour. However, in excessive amounts, it can leave a harsh aftertaste, thus even a gramme of nutritional yeast can make a significant difference in flavour. We first avoided utilising vegan cheese in our products because the bulk of vegan cheeses, while creamy and melty, include a lot of additives.  Thankfully, we stumbled upon a supplier who came to the rescue with their incredible cheeses, which are made entirely of coconut oil. So, throughout the course of this time, we experimented with a variety of their 'cheese' and nutritional yeast combinations, with some containing only cheese alternatives and others containing solely nutritional yeast. Finally, we settled on a mix that has the most delectable mouthfeel.
And the testing continued (it's a hard job but someone's got to do it).  We tested for which seasonings to use, with and without a roux, vegetable add-ins, and so on, in addition to non-dairy milks and cheeses... It was a lot of fun to put our taste buds to the test and discover whether we shared the same tastes! 
So that's just the white sauce and cheese topping, which we also had to check would melt and give the nice oven cooked finish.  Next was the base.......Only joking we're not going to bore you with how many vegan lasagne bases we tried before we settled on our lentil base but it was a lot!
Next, repeat this process for over 30 meals, whittle then down to a launch range of 10 and then you have some products to sell!  We've spent the past 12 months seeing what our customers like and what sells well through our wholesale partners and finally now we are in a position where we are ready to add some more products to add to the range.
We're always thinking about new product development and developing new items, so if you have any recommendations or ideas, please send them to hello@rootkitchen.uk
Offering an environmentally friendly and convenient solution, all meals are packaged in recyclable packaging and shipped using a carbon neutral courier.
Follow Root Kitchen and stay up to date @rootkitchen_uk on Instagram.