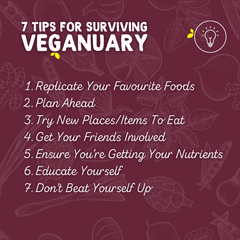 For those of you that may be attempting Veganuary for the first time we are pretty much half way through, we'd be really interested to hear about your journey, have you taken to it as a duck to water or is there anything you have found anything difficult?  For those of you that may be struggling we've pulled together some tips that might help. 

1. In the UK in particular we are luckily in that the increase in awareness of  adopting a plant based diet means it is now easier than ever to find alternative proteins and dairy-free alternatives to things you find you are missing.  Get experimental in the kitchen, check out vegan meat alternatives, cheeses, mylks and treats and learn how to swap ingredients to make a dish vegan-friendly. 🌱

2. Make sure you always have plant based foods in your cupboard (or freezer : )) This is especially important if you are living in a household where there are none vegans as there may be extra temptations available.  Plus January is a hard month anyway and no one wants to face it being hangry!

3. Although at the time of writing this we are in the third lockdown here in the UK so can't head out to find new vegan friendly restaurants, you would be surprised to see how many takeaways and dark kitchens on platforms Deliveroo and Uber eats offer amazing vegan options for your weekend takeaway treat! 

4. Without being preachy try and challenge your friends and family to see if they can reduce their meat content.  Whilst not everyone is going to be a hundred percent meat free, if you support your junk food loving friend or set in his ways Dad to replace maybe a couple of meat based dishes for plants you will have the camaraderie of a shared goal and will be making a difference together.

5.  Use this as an opportunity to experience cooking with different fruits and vegetables.  Whilst packaged foods (our meals included) are great for a rushed mid week evening meal occasion we are big fans of cooking from scratch when we have time.  Let us know what different fruits and veg you have discovered that you love so far on your journey!

6.  When we first started adopting a more plant based diet we educated ourselves by watching some amazing documentaries like Forks Over Knives, Before the Flood, Cowspiracy and Gamechangers, (we're going to do a longer blog post about which documentaries to watch) but whatever your reason for choosing to eat more plants, these programs will give you the affirmation that your choices are making a positive impact!
7. If you make a mistake – it's okay! Any major lifestyle change is going to take some getting used to, whether you didn't realise a product wasn't Vegan or you caved in and ate that left over chocolate from the Christmas selection box, the main thing is that you have chosen to take responsibility to change your diet and eat more plants and for many that is the hardest part.
As you become more used to the diet and lifestyle changes you have made things will become easier and you may begin to learn things that show that you may have had a slip up (for us it was wine, who knew that it wasn't just grapes?!)