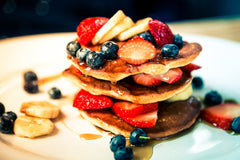 With Shrove Tuesday just around the corner our two development chefs, Lyndon and Nathan, have been experimenting in the Root Kitchen this week trying to find the perfect Vegan Pancake Recipe. 
We know that when you are first adopting more plant based food in to your diet some types of food can be difficult to replicate in terms of mouth feel, texture and most importantly TASTE however after many tweaks we think this flipping great pancake recipe from Lyndon pips Nathan's simply down to fluffiness alone.
We've kept it simple with only 6 ingredients, it's easy to make, and ready in about 15 minutes.
Ingredients
(For 4 servings)
With only 6 simple ingredients, this recipe is easy to make, and ready in about 15 minutes, so should keep the attention of even the most impatient little kitchen helper.
Here are the ingredients you'll need for our vegan lemon chia seed pancakes recipe.

Flour – (1 cup/125g) You can use spelt, unbleached all-purpose, whole wheat or combo of these flours however our favourite is Doves Farm Organic Self Raising White Flour
Unsweetened non-dairy milk - (1 cup/240ml) Use your favourite vegan milk (almond, cashew, oat, soy, etc.) We used Tesco Longlife Almond Drink Unsweetened
Sugar – (1 tablespoon) Preferably organic pure cane, coconut, date or monk fruit sugar
Baking powder - (2 teaspoons)  Our choice was Organic Cane Sugar from Buy Whole Foods Online.
Vanilla Extract – (1 teaspoon) Available at most Supermarkets or Whole Foods stores (if you use a vanilla flavoured milk, you can skip this or add it more extra flavour)
Lemon – (1) The acid is used to make the vegan buttermilk, but you can also substitute this with apple cider vinegar if lemons aren't your thing.
Salt - (1/4 teaspoon) We added a little salt to our pancakes (but you don't have to!)
Oil – (2 tablespoons) Use your favourite cooking oil, we used Vita Coco Coconut Oil in our recipe.
Method to make our easy vegan pancakes
So, once you have all your ingredients ready all you have to do is follow these simple steps and you'll have  stack of lip smacking vegan pancakes in 15 minutes.

1)  First off you have to make the vegan buttermilk by stirring your plant milk and lemon juice in a bowl, letting it rest for 10 minutes to curdle.
2)  Next up add your vanilla to the lemon and almond milk mixture.
3)  In a medium-sized bowl, whisk your flour, sugar, baking powder, and salt.
4)  Once this is ready pour in the non-dairy milk and vanilla, whisking the mixture quickly until  it's all well blended.
5)  Then the fun part!  Use a ¼ or ⅓ measuring cup, scoop and pour batter onto a preheated frying pan or griddle.
6)  Cook your mixture for between 2 – 3 minutes and then get ready to flip your pancakes once they start to bubble and the outer edges begin to firm up.
7)  Flip your pancakes, and cook on the other side, again, for 2 – 3 minutes.
Then, once ready, transfer your delicious vegan pancakes on to a serving plate or if you can't wait, tuck in straight away!
Nutritional Info
Serving Size: 2 (4-Inch) Pancakes Per Serving: 174 calories; protein 5.8g; carbohydrates 26.8g; dietary fiber 3.4g; sugars 3.4g; fat 5.6g; saturated fat 4.1g; vitamin a iu 128.1IU; vitamin c 0.1mg; folate 6.4mcg; calcium 165.4mg; iron 4.5mg; magnesium 10.5mg; potassium 123.7mg; sodium 281mg; added sugar 2g
Hints and Tips
If you are making a large batch and want to keep the first lot warm, preheat an oven to 200 degrees and place them on a backing sheet until you are ready.
You can also make a gluten free version of this recipe by simply switching the white self raising flour for a gluten free variety (the like for like swap is Freee by Doves Farm Gluten Free Plain White Flour)
Similarly, if your not a fan of using oil in your pancakes just use a none stick pan and relax in the knowledge that you are being extra healthy. 😇
Serving Suggestions
This really is up to you!  We served ours with fresh strawberries, blueberries, sliced banana and a sumptuous drizzle of Zero Calorie Maple Syrup from the Skinny Food Co however if you don't fancy that here are some other suggestions:

Healthy fruit toppings: For those of you that are still keeping up your health kick after the New Year top your vegan pancakes with fresh berries, frozen berry compote, cinnamon apples or sliced bananas.

Dollop and Scoop: If you are looking for something slightly more indulgent to satisfy your sweet tooth you can finish off your pancakes with with a dollop of Vego Fine Hazelnut Crunchy Chocolate Spread or scoop of this delicious Banana Scoops Banilla Dairy-Free Ice Cream.

As always we love to see your attempts so if you feel inspired to make a stack of delicious vegan pancakes tag us in a picture of them on insta or use the hashtag #showusyourroots

Bon Appétit!🌱
Looking for something both vegan and delicious? Here at Root Kitchen we deliver frozen plant-based ready meals to your door.