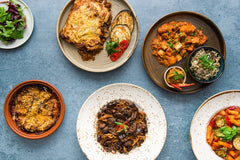 What better approach to maintain a healthy and happy heart than to experiment with a plant-based diet? To simplify weeknight meals, think about serving Root Kitchen as your next plant-based dinner.
Veganuary, which encourages flexitarians and omnivores alike to consider leading a more plant-based lifestyle, kicks off the new year and is the reason why plant-based diets (vegan or vegetarian) are front of everyone's mind in January. Many people who take part in Veganuary find that the challenge broadens their palates and inspires them to be more inventive in the kitchen. After the challenge, many people report feeling stronger, happier, and healthier, and they frequently form new habits or even completely switch.
What exactly does a month of eating a plant-based diet do to help people feel better and happier, and does the science support this claim?

The simple answer is that yes, plant-based diets are excellent for your heart. The heart is the body's hardest-working muscle, so it should come as no surprise that people feel better when they give their hearts the right kind of nutrition.
The more thorough response is that a vegan or vegetarian diet includes a variety of heart-healthy elements that support our optimal bodily performance. One of the most common diseases afflicting people in the UK today is cardiovascular disease, and poor food, insufficient exercise, and high stress levels are frequently the root causes.
A plant-based diet, is full of heart-healthy fats that guard against cardiovascular disease. Omega 3s are the beneficial fats that are frequently found in nuts, avocados, and healthy oils. They help reduce inflammation in the body and help lower your "bad" cholesterol, or LDL cholesterol. Your chance of developing cardiovascular events decreases as inflammation decreases.
In addition to being abundant in antioxidants, plant-based meals like fruits like blueberries also frequently have low levels of oxidative stress and inflammation. The trinity of legumes, whole grains, and dark leafy greens is revered as the vegan and vegetarian diet's holy grail, and for good reason: rich in fibre, vitamins, and minerals, this powerhouse trio maintains heart health by giving your body everything it requires to function at its best.
Combining a plant-based diet with exercise is key to moving in the right direction. Even small changes like taking the stairs rather than the lift or going on a bike ride instead of taking the car will help. In addition to lowering your risk of cardiovascular disease, these activities also help you manage stress and lower your blood sugar levels.
So why wait until Veganuary? What better time than now to start including more plant-based foods in your diet? Try our vegan lasagna or vegan shepherd's pie, both of which are made with natural, plant-based ingredients for a quick and delicious midweek vegan dinner.  Root Kitchen meals will improve your freezer options when you're short on time, whether you're a new parent seeking more plant-based options, an experienced vegan with years of experience, or a flexitarian looking forward to your first Veganuary challenge. Your heart will reward you for eating simple, handy plant-based food.
Use the code ROOT25 for 25% OFF your first box.