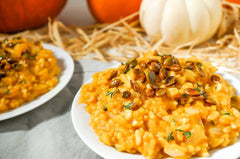 In the spirit of not wanting to waste good food we've come up with our favourite pumpkin recipe for once you and the kids have finished carving this Halloween.  The Root Tribe have sent us loads of awesome ideas but the one we liked the best was this delicious Risotto with Sweet and Spicy Pepitas (pumpkin seeds basically).
Creamy Pumpkin Risotto with Sweet & Spicy Roasted Pepitas
(Vegan, Gluten Free)
Ingredients
Risotto
1  x cup arborio rice

1 x large, minced onion


3 x tablespoons of coconut oil

1/2 a cup of dry white wine

4 x cups of vegetable stock


3 x cloves of minced garlic

1/4 teaspoon of salt


1 x cup of pureed pumpkin flesh

1 x tablespoon of chopped thyme
Sweet & Spicy Roasted Pepitas

1/2 a cup of raw pepitas (pumpkin seeds)

1 teaspoon high heat oil of your choice (we used avocado however coconut and ghee would also work well)

1/4 teaspoon of chili powder

1 teaspoon of maple syrup

Generous pinch of salt

Instructions

Risotto
Bring the vegetable stock to boil in a medium sized pot, once starting to bubble, reduce the heat to low and leave it covered to simmer. 

Next, warm coconut oil in a large pot, over a medium heat. 

Add in your onions and saute until they become translucent, then add the arborio rice and salt, stirring until well-coated.

Add the white wine and stir thoroughly, simmering until wine is absorbed, then start to add the stock from the first pot a bit at the time, waiting until it's absorbed before adding any more, returning the stock to simmer between.

Add the minced garlic whilst you are adding the last bit of stock.

Once the final stock has absorbed, add the pumpkin and thyme and stir while cooking for 5 minutes more.

Sprinkle the roasted pepitas on top and serve straight away. 
Pepitas
Preheat your oven to 300 degrees.

Toss pepitas to coat evenly with oil, chili, maple syrup and salt, then spread in a single layer on a baking sheet and bake for 15 – 20 minutes, or until golden brown, stirring halfway through.

Et Voila 
.  This recipe will comfortably serve 2 people for dinner or 4 as a side.
Give this recipe a try and send your creations to us either via instagram 
@rootkitchen_uk
 or by email
hello@rootkitchen.uk
 likewise, please get in touch with any Pumpkin recipes that we must try.
Have a spooky weekend everyone! 👻🎃
🦇
😈
Team Root Kitchen
Looking for something both vegan and delicious? Here at Root Kitchen we deliver frozen plant-based ready meals to your door.