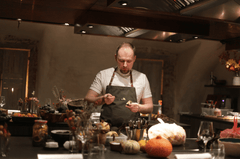 This week, we had a meeting with Nathan, our NPD chef, who is responsible for creating all of our plant based meals including our delicious vegan lasagne and spicy Korean Tofu Noodles that you've been enjoying. 
Where do you get your ideas for things you make in the NPD kitchen?
Usually, it's the ingredients themselves that inspire me.  Our kitchen is located in Lancashire and we are lucky to be surrounded by some of the country's best vegetable growers and farmers.  We have access to beautiful produce and I regularly attend the local farmer's markets, so my first thought when I see something new is, "I NEED to use this!" when I see a lovely butternut squash or bunch of freshly picked bunch of asparagus.  I also try to not fuss with the ingredients too much as I want to ensure that each vegetable is given its chance to shine.
What is your favourite Root Kitchen meal to eat, (whether it has made it onto the menu yet or not?) What is your favourite recipe that you have created so far?
I must say I am loving some of the new vegan meals that we have been working on that haven't yet launched.  I've had a hand in the whole new range of development this time around however there is one product in particular that stands out. You'll have to wait to find out what it is but without giving too much away, I'll just say that I replaced a raisin with an in-season cranberry to provide the already fantastic flavour profile—which hopefully both adults and children will really like—a touch of acidity. Korean Tofu Noodles is one of my current favourite Root Kitchen meals. Multi-textured, fresh, tangy, earthy, sweet, and spicy.  We designed this meal so that every mouthful is unique.
Has vegan cooking always been a part of your life? What are some of the key distinctions between working with vegan recipes and those that aren't?
I've been creating vegan meals professionally for over five years.  I've noticed that trends tend to come from foodservice customers so I've developed a number of vegan dishes for restaurant menus over the years and I've noticed that there has been an increase in demand for vegan options recently that has spilled over in to retail with supermarkets allocating more shelf (or freezer) space to plant based options.  I'm excited about working with vegan food as I definitely think it's the direction of food in the future.  
For me, texture and preparation are where other foods and vegan meals are the most different.  Traditionally, cooking methods such braising, grilling, and smoking have been used to transform tough, less expensive cuts of meat into something that is ultimately more palatable. However, because so many nutrients and texture components are lost during the low and slow cooking procedure, most vegetables don't particularly enjoy it.  For instance, think of boiled broccoli that is can often be so soft you can practically mash it with the back of a spoon.
When I'm cooking dishes where vegetables are the key ingredients, I'll tend to use cooking methods like roasting and searing that'll bring out their flavour and let them keep more of their natural texture. That inevitably results in foods with brighter flavours (and colours!) and lighter textures.
Would you like to sample Chef Nathan's favourite dish in your upcoming box? Click here to fill your plate with even more plants!