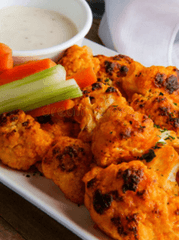 Cauliflower wings, that's what we said. Now that it's nearly time to start dusting off the BBQ's for another year we thought we'd give you a recipe that'll make an awesome addition to your BBQ that ticks all the boxes, crispy, sticky, smoky, and as spicy as you can handle. With a few minutes in the kitchen, you can create a large batch of these, deep-fried or baked, and enjoy a somewhat healthier option that's ideal for satisfying those BBQ cravings!

To make the sauce, combine the following ingredients:
85g Sri Racha Sauce (Tabasco is too thin for this recipe)
Maple Syrup (115g)
Ketchup (115g)
For the batter, mix all of these ingredients together in a large bowl:
2 tsp Garlic Powder
1 tsp Smoked Paprika
50g Plain Flour
15g Corn Flour
1 teaspoon Chilli powder
1 teaspoon Cumin powder
1/2 teaspoon of ground Allspice
Half a teaspoon of Salt
110g Panko Breadcrumbs
230ml Almond Milk
1/2 teaspoon coarse black pepper
1 Cauliflower head, sliced into florets
If frying, use Peanut or Vegetable Oil.
Garnish with:
Sesame Seeds
Chopped Spring Onion
How to Make:

Preheat the oven to 200°C / Fan 180°C / Gas Mark 6 if baking.
In a mixing bowl, combine all of the sauce ingredients, whisk or swirl to combine, and put to one side.
Combine the first nine ingredients in a mixing dish and whisk them together. While whisking, pour in the almond milk until a batter forms.
Place the panko breadcrumbs in a separate bowl. You now have two areas where you can batter your "wings."
Dip the cauliflower florets in the batter (one at a time or in handfulls), shake off the excess batter, and then roll them in the breadcrumbs. Using a baking tray, place the battered wings. Repeat until all of the wings have been battered.
If you're baking the wings, set the baking pan on a rack in the centre of the oven and bake for 20-25 minutes, or until golden and crispy.
When the wings are done, toss or gently swirl them into the sauce to coat.
The finished 'wings' are best served piping hot and garnished with sesame seeds, chopped spring onion, and plenty of ranch dressing for dipping.